The "MVMT Watches" brand has various elegant watches and accessories to offer for women and men. This review of the watches will give you an idea about the company, what products they are offering, and the policies for ensuring the quality to satisfy the customers. Kramer Laplante and Jake Kassan started this brand back in 2013 to provide people with affordable but unique watches. That's also the reason why each MVMT watch's design revolves around disruption, creativity, and adventure.
Let's take a look at what these watches are made of and what are the pros and cons.
What is an MVMT watch made of?
According to the brand, they use in-house designs for their products but they haven't revealed anything else yet. However, they design the timepieces in their headquarters in Los Angeles which is why the prices are low. But some people claim that they import these watches from Chinese companies. If you contact a Chinese retailer, you will find similar watches with even better designs which means it's just the hype about MVMT watches and nothing else.
One thing is for sure MVMT invests a lot of money and potential in the marketing and promotion of the products. They hire influencers, run social media campaigns and create all the hype. If you are reading this review, you may also get to know about it through some influencers.
Pros
The material used in manufacturing both MVMT watches and jewelry is mainly stainless steel and leather.
You will get a 2-year warranty on buying any of their products. Shipping is also free anywhere in the world.
In order to avail of some deals and discounts, you can enter their loyalty program also.
MVMT has allowed all of its Instagram followers to click on the images and buy products directly instead of visiting the shop or the website.
Cons
There are controversial statements about the manufacturing of MVMT watches, and nobody knows whether they design them or they work as a "middleman" only.
Customers have claimed that the watches broke fairly quickly.
Despite having its headquarters in the US, it doesn't deliver in some states of the country.
Now that you've got an idea about the pros and cons, let's move toward the MVMT watch review (for men).
MVMT Watches Review (for Men)
Elegance and masculinity are some of the things everyone wants to have in an MVMT watch. That's why they are made of stainless steel and their finishing includes silver, rose gold, black and taupe. These MVMT watches made of steel also feature bands that are interchangeable and you can easily buy a watch in the range of $90-300.
MVMT men's watches have more than 100 styles, so it's not possible to cover each one of them in this review. But we've chosen the three most popular designs here.
MVMT Chrono Gunmetal
This mvmt watch is no less than a daring fashion statement because it sits tall on your wrist. It has gunmetal tones with matching markers and smooth dials making it a worthy choice. Also, its stainless steel strap adds to its beauty. There is a date display and three subdials also on it, with a bright blue display for seconds.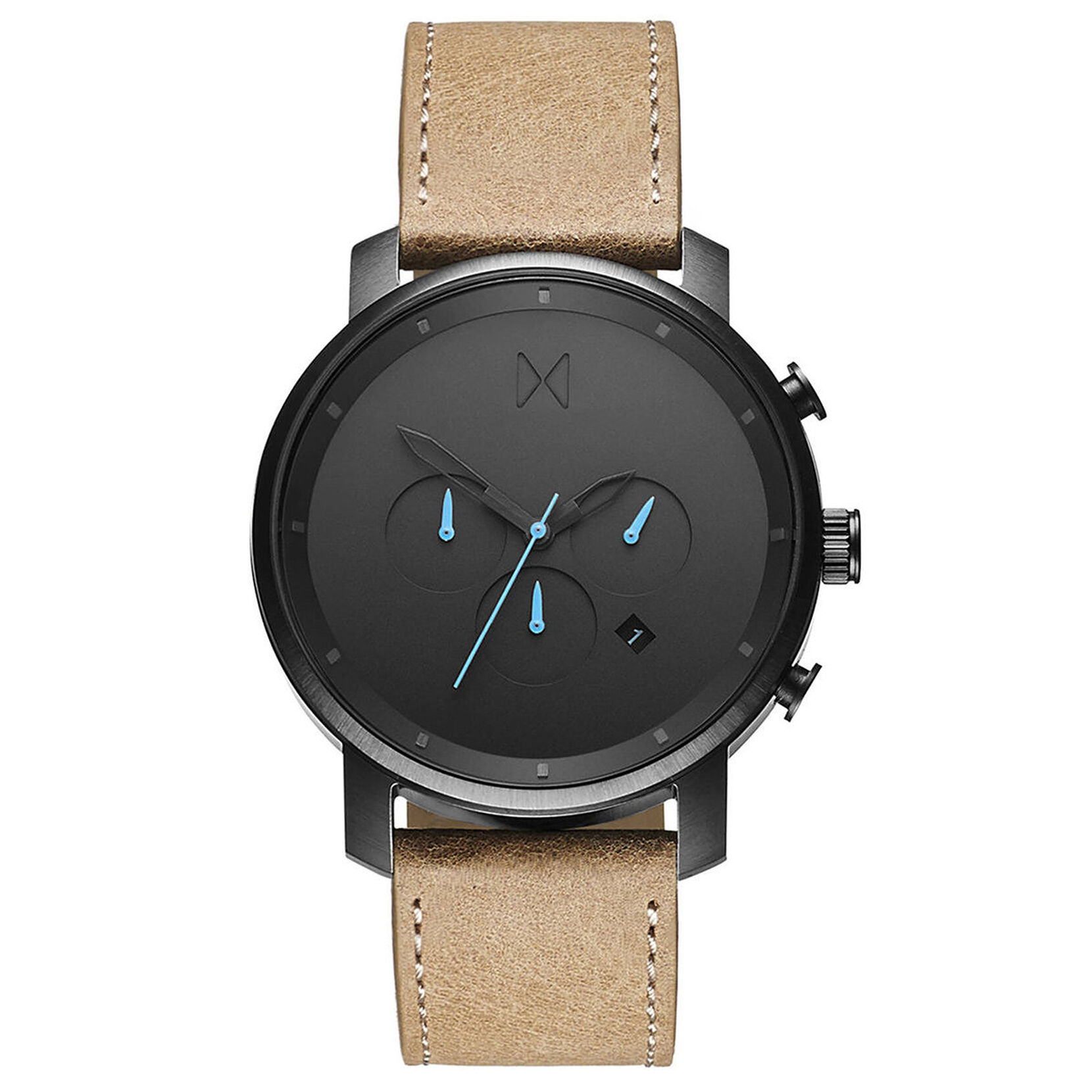 MVMT Chrono gunmetal is water resistant but there are restrictions for that also. It has this property at 5 ATM only, so you can't wear it while swimming. There are two size options available only, 40mm and 45mm. You can buy it for $150.
MVMT Revolver Bronze Age
The mvmt revolver is a combination of vintage old design and a modern look. The most interesting part of it is its sage green dial with its markers and hands in bronze touch. That's also the reason why it's called a bronze-age watch. Also, it is encased in a bronze setting and has a leather strap to accompany the screen.
There is only one subdial, and its water resistance is quite similar to Gunmetal. Both show some resistance at 5 ATM but you can't wear them while swimming or else, you will end up losing them. In order to enhance its charm, there are wire lugs and domed glass. However, this one is cheaper than the one we saw previously. You just have to pay $140 to have it on your wrist.
MVMT Hustle
You might haven't seen people who are fond of golden watches, but this MVMT hustle with gold case is a masterpiece. It has golden markers and hands along with a black dial, making it look like something extraordinary on your wrist. And the best part is, Hustle is a unisex option (among all MVMT gold watches) which makes it unique also. It is the smallest watch in the list of MVMT watches designed for men.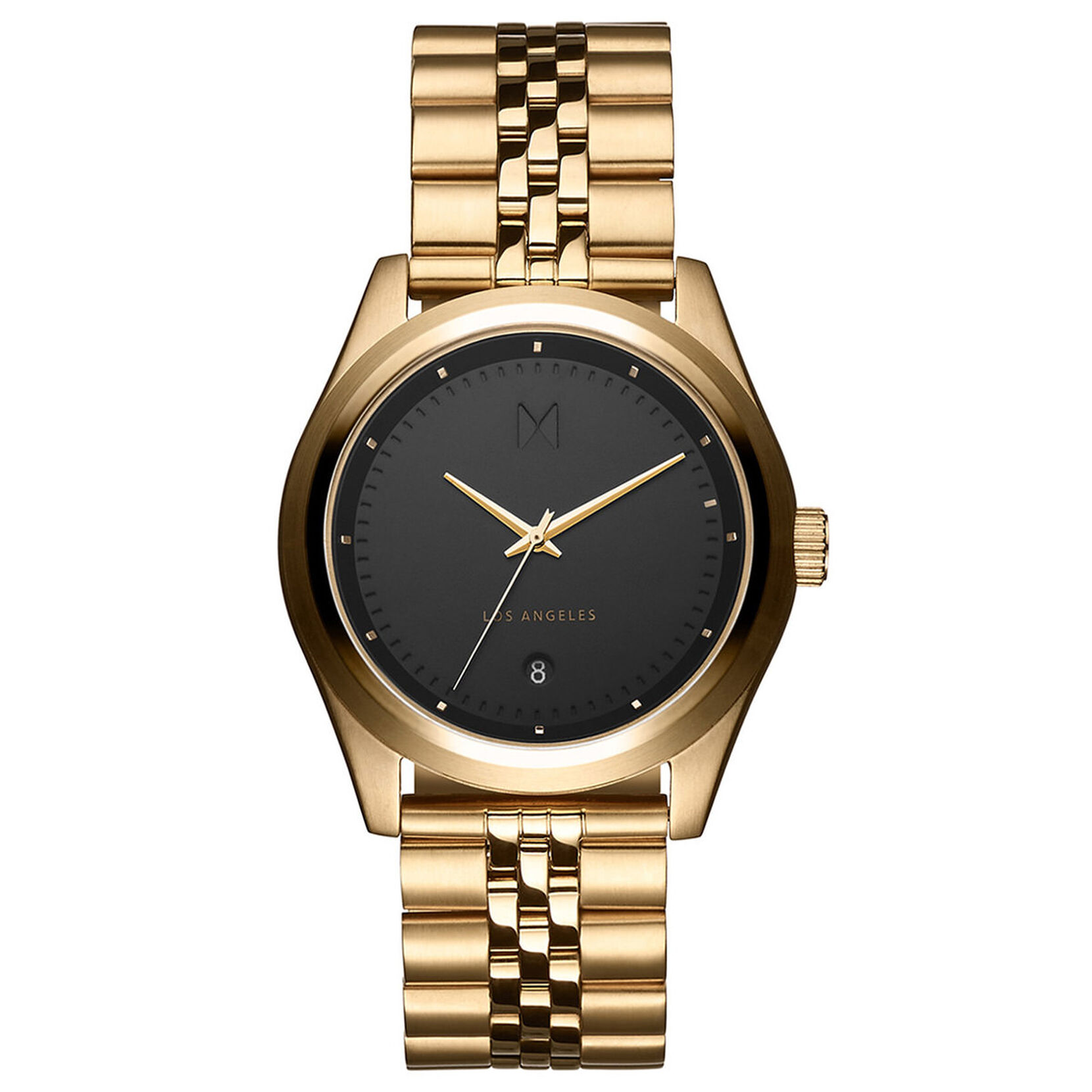 Its band (made of stainless steel) is also interchangeable and is lightweight also in order to not make the customer feel any kind of burden on the wrist. It operates with a "3-hand Miyota Quartz Movement" and displays the date also at the center. It is water resistant at 10 ATM pressure also, so you can wear it while swimming. However, if you want to go deep into the water, you must not wear it because the pressure there will be comparatively high. Also, you must refrain from wearing it while scuba diving. It is available at stores or online sites for $140 only.
MVMT Watches Review for Women
Watches are normally thought to be worn by men only, but there is a considerable amount of women who like to wear them. And when they find a design their match, they get passionate more than men. For the same reason, there are more designs at MVMT Watches for women than men. Since you already know about the mvmt watches are made of stainless steel, the only thing to add to that is the tones of black, rose gold, and silver along with leather straps of the highest quality, that too at cheap prices. The jeweled accents already come with these watches.
These watches mostly operate on "Japanese Miyota Precision Quartz Movements" and can be bought in the range of $115 and $165. Some of them are reviewed here as well. Take a look at those.
MVMT Skylar
This MVMT watch is classic and slender because of the signature face it has. Its "warm blue dial set" is encased in polished silver stainless steel. The most beautiful part (even more than the watch face) is its silver hands with interchangeable silver strap, but its dial is also smooth and clear. Most women consider MVMT Skylar as their most favorite watch to date.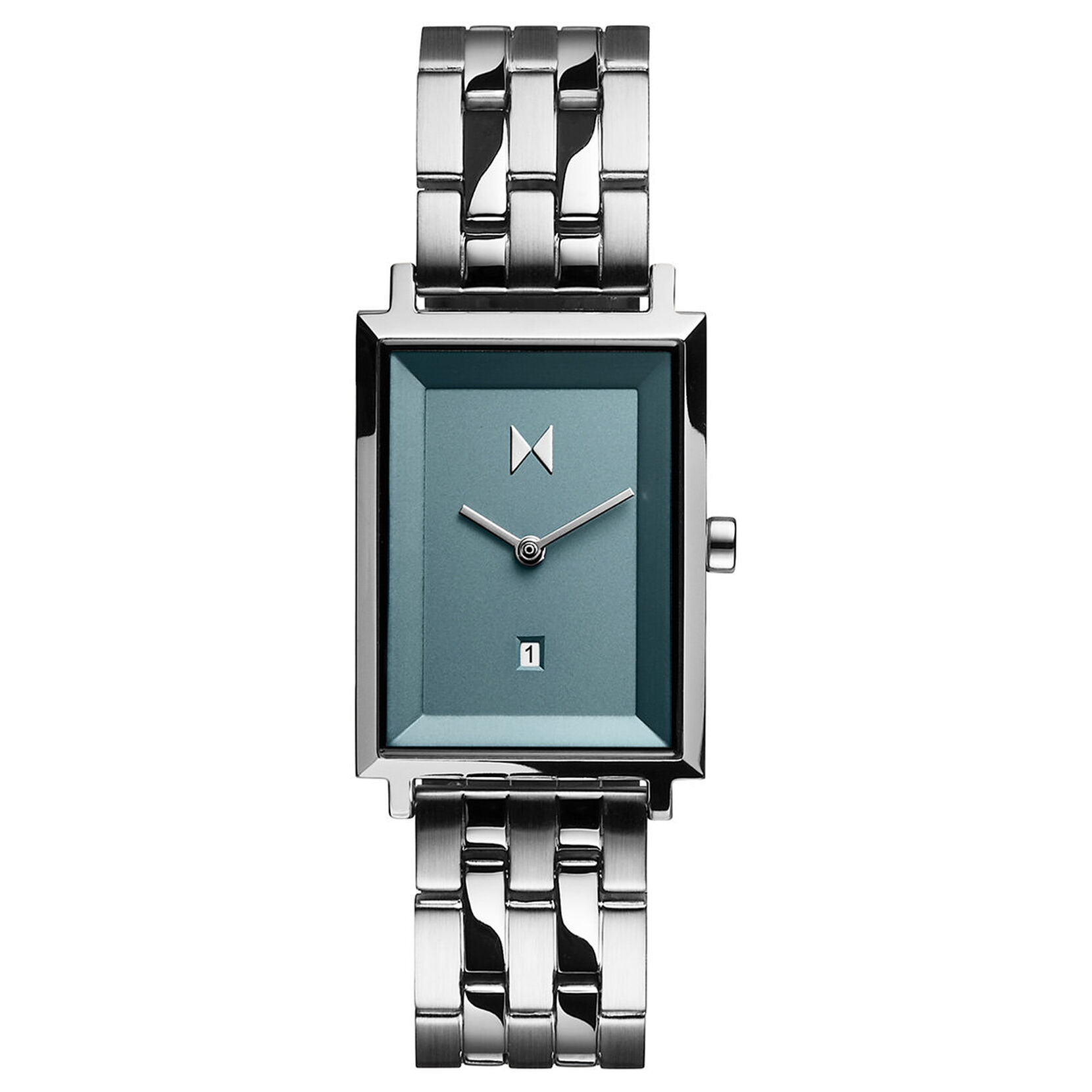 There is a date display also at the center but it's a simple one. This one is also water resistant but only at 5 ATMs. So, it is recommended to keep it away from water. This sophisticated and elegant watch can be bought for $125 only.
MVMT Lexington
Women are mostly seen wearing slim watches, and this mvmt watch isn't different either. Its ultra-slim design makes it unique and at times, different also. It is present inside a rose gold case, making it easy for the watch to sit on the wrist. Its white dial accompanied by markers make it even more beautiful. Its stainless steel strap is also interchangeable just like all other MVMT's watches.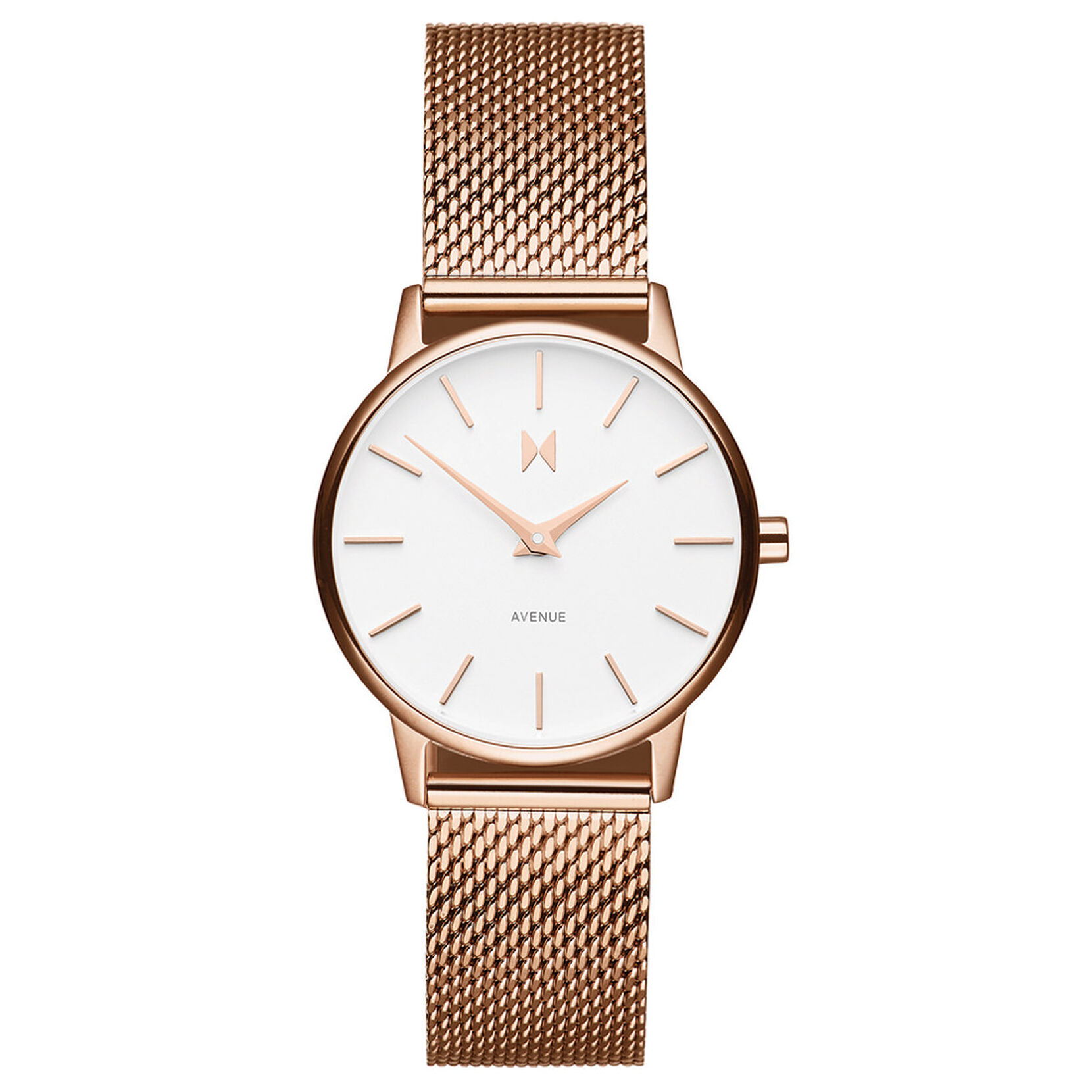 MVMT Lexington contains "2-hand Miyota Quartz Movement" and its water resistance is less. It can only survive at 3 ATM pressure, no more than that is suggested. The only drawback is that, with such a simple design, it costs around $125. This is challenged by customers also at times because the prices of these watches don't justify the quality they are offering.
Also, availability becomes an issue at times. You've to pay before time to book your order and when you get it late or don't get it at the required time, you may not be satisfied. That's where their ratings are affected and their image gets destroyed worldwide.
MVMT Santa Monica
It is a famous saying that "People will stop wearing black when they find a darker color". That shows how impactful this color is, and so do the things associated with it. MVMT Santa Monica is an example of it because of its polished and dusky look as well as its style. The watch has featured an ebony dial also, encased in a not so different stainless steel case with a rose gold finish.
Its hands and markers operate on the "3-hand Miyota Quartz Movement" and seem to sparkle against the face. And here comes the most awaited part, its leather band is black and interchangeable as well. And with no such difference in terms of resistance to water, it can only bear the pressure of 3 ATM. So, you may wear it when it's raining outside or while you are washing your hands, but you can't take a risk by wearing it during scuba diving.
It has a clean and simple design, but will still cost you around $115 which is more than what customers expect. That's one of the reasons why the purchase of such products stops at times, people look for new designs that are light in weight and have different features from such watches.
MVMT Watch Accessories
The MVMT Watches brand always tries to satisfy the customers so that they may buy additional accessories also along with their watches. Apart from the battery that is a part of the watches, some are equipped with watch bands also that are interchangeable. So, you can easily swap the straps to transform your watch from a subtle one to an efficient and high-energy watch. The classic yet casual look will be more attractive for sure. In this way, you can wear the watch on different occasions also, based on your outfit.
So, in order to ensure that customers are interested in their accessories and to get 5 stars from them, the watch styles have been categorized by the brand to make it easy for them to choose. These straps are available in several colors, and the price ranges are just 1/3rd of the actual watch price. Bands will cost you no more than 50$ with good quality.
Should you buy MVMT Watches?
As a matter of fact, if we exclude the source of these watches, they are extraordinary. The thing that most customers look for is whether these are stylish or not, and what price they'll have to pay to get them. Usually, the combination of beautiful style and functional elements is what makes it different from other brands. Since you don't have enough time to use every single brand other than this, review them all and give your opinion, you can just take a look at their reviews and the facts will become crystal clear. Here is what customers had to say about these watches.
Customers' Reviews
There are different platforms for this purpose also. Let's see what customers have to say about each of them.
Amazon
If you take a look at MVMT watches reviews on Amazon, you'll see 841 of them there. Nearly 80% of the people have given 5 stars to the service and quality of the timepiece they received. The rest of the 20% have given either 2 or 3 stars. Some customers were so disappointed that they had given only one star also. They would not have been entertained properly and professionally for sure. But still, having 20% bad reviews is a big deal and the company needs to take action about it.
The positive reviews roam around good quality, beautiful look, and minimalistic approach. While the disappointed customers were not happy with the shopping and delivery times. According to them, the entire process shouldn't take this much time. Of course, the ones who have paid money will neither compromise on the quality of the timepiece, nor they will wait for so long. Some customers also commented that they paid for the article months ago and haven't received it yet. This isn't expected from brands like this, but what a customer can do except to contact them again and again?
Trustpilot
Trustpilot is another platform where customers have reviewed MVMT watches. More than 700 customers shared their opinions, 70% of them were happy with what they got while 22% were disappointed. The satisfied ones were happy because of the affordable prices of watches and good customer service. Even a few missed their shipments also which the company helped them get back.
Interestingly, the negative feedback shared by the customers was because they didn't receive good quality products from the company which seems impossible. Some mentioned about their refunds (which they never got) because of receiving damaged items. One of the customers claimed that his watch had no pin. When he contacted the company, they only agreed to pay him $10 as a refund which is around 10% of the overall cost. Some claimed that the company's policy of exchanging the products instead of offering the refunds should be stopped at all costs.
Despite the fact that it is impossible for the company to please every customer, it is their responsibility to take follow up in order to ensure whether the customer has received what he/she ordered or not.
Deals & Discounts Offered by MVMT
Even though "MVMT Watches" charge more than usual, they return it to their customers by offering deals and discounts on different products, preferably on watches. For example, if you are purchasing for the first time, you can enter your email address to get 10% off. Their loyalty program offers customers with rewards that they can use later as cash also. Moreover, if you are an active member of their social media community, you'll get discounts for that also. All in all, they are making good use of technology to offer what they can to their customers.
If you visit their site, you will see a list of items that are coming soon or ending. At times, they offer discounts on such products also to sell them out as soon as possible. So, you can have a good chance of availing such offers from a reputable and verified company and have minimalist yet stylish watches.
Conclusion
As of now, nobody knows what these watches are actually made of, which mineral is being used, or what kind of material is chosen. The only known thing is the stainless steel. Apart from that, the quality of the products is good enough, but you may be at the risk of getting scammed also, as shown by the reviews. But they can definitely work on it to make the overall system better.
Before paying for the product, see if the design is sleek and if the seconds and hours are shown clearly on the watch. This will help you choose a better timepiece. Apart from that, if you are at the shop, you can try the watch out there to see if it fits perfectly on the wrist. All the factors have been mentioned in detail in this review, it's up to you now to take them all into account to have something better in your hand.
Patrick Gruber is homeless because
he made his dream of being a digital nomad real.
He started as a developer, ventured into Amazon FBA business, invested in the market, founded a Cardano Stake Pool, and started his blog in 2022.
His blog shares his insight into the LIMITLESS possibilities of life.
If you're looking to change your world and gain practical knowledge, you're in the right place. Keep reading to learn more.