We all collect business cards wherever we go. But, how many of them do you actually use? If you're like most people, you'll probably find these business cards in the trash. Why shouldn't they be? The cards just take up space in your desk and wallet, and you can get all of that information from their official website as well. Change it by using a luxury business card !
However, you may be surprised to learn that the purpose of business cards is more than just a written form of all the contact information and services they provide; it is also used to portray the brand's worth and cause awareness. If you find yourself tossing the card in the trash, it is almost certainly due to poor card quality and an image that gave the wrong impression of that particular business.
To create an elegant business card, you must first understand how it should appear. Printing on paper is simple, and there are modern printing finishing options available to make your business cards more appealing. Knowing all of the benefits of the process can help you design and produce a truly beautiful and elegant business card. If you try to design a luxury business card on your own, you will have a difficult time deciding on different printing options.
What Are Luxury Business Cards?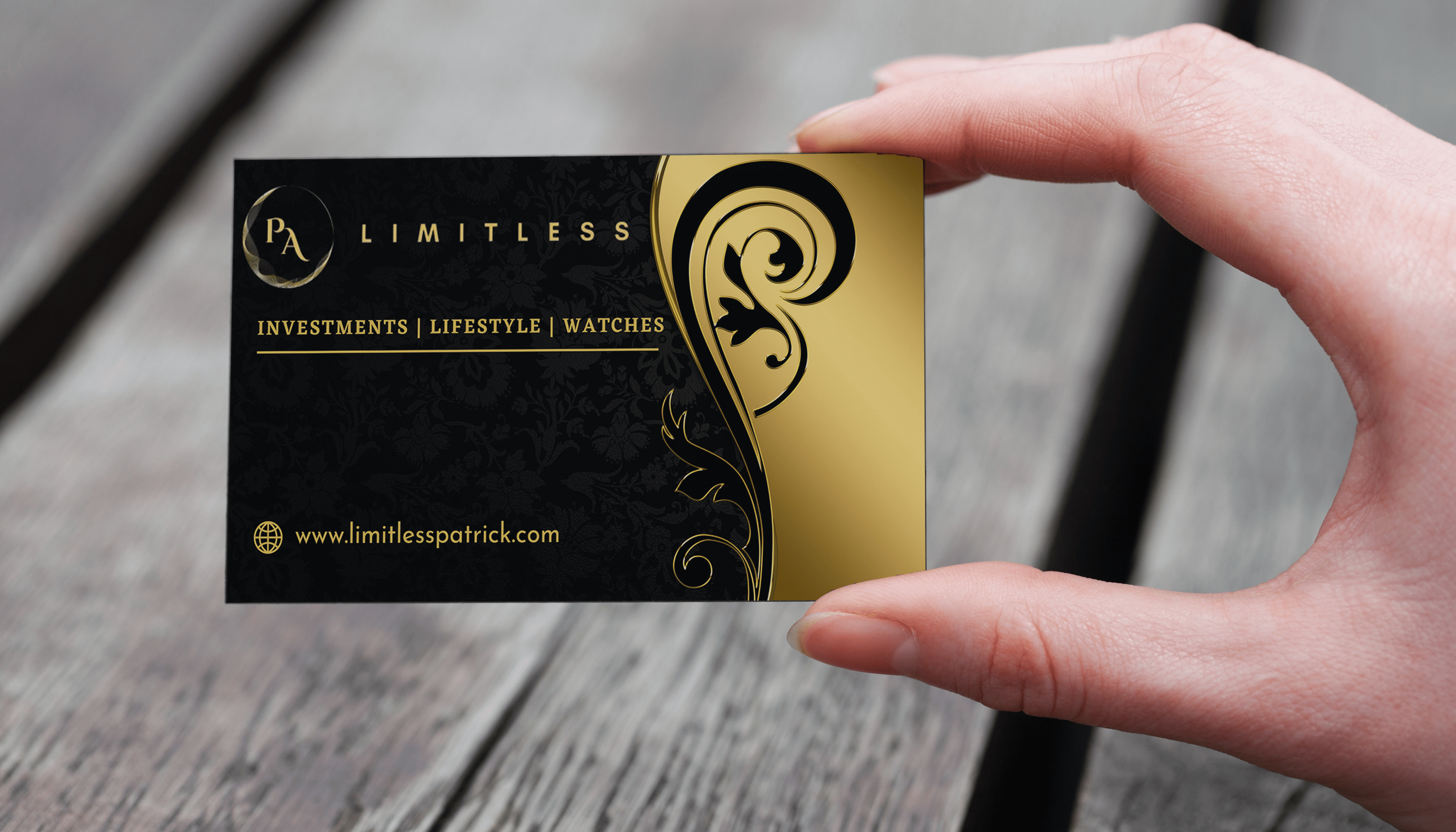 Generally, business cards are a type of branding material that includes contact information of the company, products or services offered, and a few sentences or images that clearly convey what the brand is all about. What matters most is its appearance, which lures potential customers to learn more about them.
This gives your card an advantage over the other cards.
When we say luxury business cards, we mean high-quality cards with a grandeur that demonstrates how reputable and professional your business is. It can also give your business a competitive advantage and encourage people to visit your location.
When it comes to business cards, everything comes down to how much effort you are willing to put in to make your cards stand out. Whereas an ordinary card is easy to ignore, a high-end card can quickly convert your leads into overflowing sales.
Here are 4 Reasons Luxury Business Cards are Important For Your Brand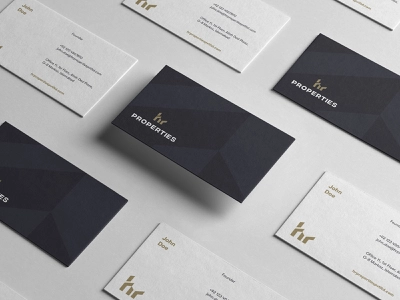 Not all business cards are the same. When creating a luxury card, the business cards you give should represent your business, it. Below are four reasons why you should invest in luxury business cards for your brand. Make your brand visible in everything you do to promote your company brand.
1) First impressions matter a lot
When business cards are distributed, it is often the first time a potential customer hears of you. Your business card is your first and maybe only opportunity to make a good first impression. What distinguishes your company? If you describe your services as luxurious or upscale, your business card should reflect that. Customers will find it difficult to take you seriously if it does not.
2) A Great Marketing Technique
The business card is still important whether you work for or own a luxury company. The trick is to take full advantage of it. A business card is a small billboard that you carry with you wherever you go.
When your business cards are eye-catching, they make a difference and even feel different in the hands of potential customers. One of the most important reasons to invest in luxury business cards for your brand is to ensure that customers who see the card take your services seriously.
3) Create Credibility
Put yourself in the shoes of your prospective clients. Imagine being told about a rare, upscale service, and then being handed a business card that screamed plain and boring. Create credibility by using cards that reflect your business.
4) A Personal Touch
Your business card is the ideal place to include a personal touch to represent your business. In terms of personality, one small business card can go a long way. Here are a few ideas for adding a personal touch to your business cards while representing your luxury business.
Instead of traditional cardstock, use unique metal, paper, or plastic.
Use an elegant font
Have a large card size
Use colors that represent your brand
Use Foil embossing
These are simply some ideas to kickstart your creativity.
What Makes Luxury Business Cards so Unique?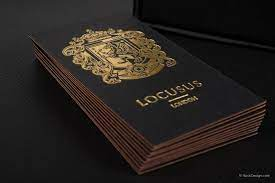 As we all know from the term "luxury," these cards are superior to standard ones. This is because:
Luxury business cards convey a sense of professionalism, which can increase customer trust.
It distinguishes your brand in a crowded market.
Ideal to target high-end demographic
Some luxury card features, such as Spot UV, allow you to highlight specific elements of your cards.
Adds a character to the brand
However, when carrying out luxury designs, ensure that you are knowledgeable enough to distinguish what truly constitutes a good business card. People frequently mistake glossy cards for high-end cards. This will give the card a tacky appearance and make reading the text more difficult.
Where To Produce Luxury Business Cards
Elegante Press
Elegantpress is a leading provider of Luxury Cards that make a lasting impression. Business card design is an important aspect of any business because it gives the first impression of the company's style and class. Our high-quality luxury business cards were created with the goal of making the best impression and expression possible during the various finishing processes. Our business cards come in a variety of sizes and colors.
Gold Image Printing
Gold Image Printing, based in Los Angeles but serving customers across the United States, is a reputable custom printing company that provides quick and dependable online printing services.
The best part about their luxury card collection is how easily you can customize it to your specific needs. They want to make a good impression on their customers, so they run a luxury business card that can be found anywhere.
5 Expert Tips for Designing a Luxury Business Card
The foundation for the presentation is laid by the key elements of a luxury business card. However, some expert touches can personalize the message your luxury business card will send. One of the most difficult aspects of the creation process is maintaining a high-end appearance while avoiding kitsch. Here are five useful tips for creating a design that screams luxury and tastefulness.
1) Utilize a Template
Unless you have years of graphic design experience, it is best to start with a business card template. A template has the advantage of already having the layout blocked out, so you don't have to worry about spacing. Even though you'll start with a pre-designed template, you can still customize it with your company's branding.
This method ensures a luxurious finish without the time-consuming aspect of creating a layout from scratch.
2) Keep the Message Simple
Luxury business cards must convey clear, concise messages. They essentially combine the vital contact information of stickers and labels with the personality of a compliment slip. As a result, you must include the following basic elements:
Business name
Phone number
Email
Geo-information
Tagline
Services or products
The full address does not have to be included in the geographical information. It only needs to provide a key point, such as a region, city name, or district. If your main hub is on a historic street, use copy that emphasizes it, such as "Located on Historic Maple Drive." Don't list the services or products that the company provides. Instead, select a term or short phrase that encompasses the entire spectrum. You can avoid adding them separately if your tagline includes geographical, industry, or both information.
3) Incorporate Branding Guidelines
This step entails the fundamental branding elements that appear on your other business materials, such as letterheads and folded leaflets. Nothing says "luxury" like consistency, so use the same logo, color palette, and typography throughout. When someone sees your branding elements, they should recognize your company right away.
4) Aim for a Clean, Balanced Finish
Balance is essential in high-quality graphic design. This characteristic is especially important for small mediums such as business cards. When you include too many colors, images, or details, the eye is overwhelmed and chaos ensues. Because you're going for luxury, you want the exact opposite effect.
To accomplish this, concentrate on achieving a sense of balance. A dark or bright background, for example, is beautifully balanced by light typography, and vice versa. This contrast ensures that the important details jump off the card and into the minds of potential clients.
5) Incorporate Modern Elements
Just because business cards are physical doesn't mean you can't incorporate a technological element. QR codes are one of the most common examples of this step, which is also a popular element on postcards.
You can create a code that directs customers to a landing page that highlights all of the information that doesn't fit on a card, such as special offers, services, or products, as well as a call to action. For the ultimate 'wow' factor, use the code as a direct link to your online portfolio or resume.
Luxury Business Cards Design Guidelines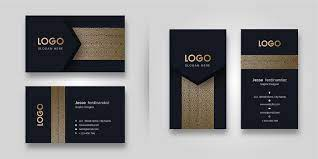 Some businesses prefer to have a basic and professional look that portrays their work rather than a luxury flair on their business cards. When designing your luxury business cards, think about what your brand has to offer and what you want to convey to your audience.
Keeping this in mind, you should consider whether you require a luxury business card. Here are just five things to think about before purchasing a luxury business card:
Shape
The shape of a card can be an excellent indicator of the type of business you run. A typical greeting card is rectangle-shaped, glossy, or eggshell-style. You can spice things up and give your overall card a unique appearance by deviating from the norm. This could include using distinct colors, fonts, and shapes that are consistent with your brand.
You can either go with:
Rectangle: This classic shape is ideal for giving insurance or accounting firms a professional appearance. Some people mistake this for being boring; they actually have their own personality that adds a layer of sophistication to your brand. They also have rounded and square edges, allowing you to customize the card's appearance.
Miniature: With its classic style, this keeps things simple. Miniatures, on the other hand, appear more creative than best-suit brands that involve fashion and arts.
Square: Most creative graphic designers put their creative edge to every corner of the business card in square format. The front of the card typically contains aesthetic elements such as the logo, coatings, and images, while the back contains practical contact information.
Style
To design luxury business cards, you have the option of using Spot UV to make a few elements stand out from the rest, or keep it simple for a minimalist look.
As a result, before you begin designing the card, consider the features you want to emphasize and the vibe you want to convey to your customer. Overall, keep your ideal customer in mind when designing your luxury card.
Paper Stock & Materials
A business card is a physical item. Clients and customers do not simply see or read them (as they would a website); they hold the cards in their hands and experience them with both their eyes and their hands. This is why using premium paper in your business card design is so important — paper that feels great can help convey an air of luxury.
Materials are important in the design of luxury business cards. If you want your cards to feel extra luxurious, choose paper stock or card stock with a little extra weight. This will ensure that you receive a high-quality paper that will last.
Coating
Card designs are available in uncoated or coated laminate finishes. While lamination is required, three options are available: gloss, matte, and velvet. Matte is trendy, but it does not work well for an upscale finish. Choose a gloss or velvet finish to achieve a high-end appearance. Gloss is always eye-catching, but velvet provides an unparalleled sense of luxury.
Corners & Sides
Luxury business cards are available with round or square corners. Both styles provide a high-quality finish. However, because round edges are less common, selecting this feature may help your card stand out.
One of the best things about luxury business cards is that you can design them however you want. You can make a one-sided card if you want to. It is also possible to create a two-sided design!
7 of the Best Luxury Card Design Examples
1) Aurora
These Aurorabusiness cards make a stylish first impression with a botanical illustration of tropical blooms and a clean sans-serif font. The South African studio specializes in whimsical artwork and design, so it's only natural that their business cards reflect this.
2) Chomp
Chomp, a London-based agency, designed business cards with a bite-sized chunk missing from one corner as a literal interpretation of the company's name. The card stock's shape mimics a detail in their logo, which also has teeth marks.
3) Garage Culture
Non-traditional materials will assist you in making your business card stand out. Rodrigo Cuberas created this bike garage business card using cotton paper stock as the foundation for its stunning, simple design.
4) Trick & Treat
Here's an excellent example of a company that played to its strengths. Trick & Treat, a branded entertainment company, has one of the most unique business cards we've ever seen. The design transforms into a tabletop game, which fits Trick & Treat's playful brand perfectly.
5) Wendigo
Although the name of this video production company comes from a spooky folk creature, the quality of its business card design is far from frightening. These unusual cards, designed by The Distillery, focus on meticulously detailed, embossed illustrations: a feather, a piece of wood, and a beastly skull can be seen behind the contact information.
6) Katsy Garcia
Katsy Garcia, an illustrator, and graphic designer, created this simple but effective business card concept for her own personal branding. Instead of displaying her contact information in the traditional manner, Garcia adds a unique twist by displaying it in the form of an instantly recognizable text message composition. The end result is charming as well as sharply clever.
7) Confetti Studio
Confetti Studio's business cards combine two powerful elements to create a mesmerizing and modern effect: punchy orange card stock and gold-embossed metallics. The card's side is entirely covered in gilded speckles, while the other side features the agency's logo and contact information, which is also gilded.
Conclusion
Leave an impact on your customers or competitors by providing high-quality business cards specifically designed to suit your requirements. Luxury cards are gaining popularity with many businesses for good reason. Not only does this card display premium style but it also represents your business' strength and stability. A luxury business card is easier to use as the paper takes time to get creased or damaged.
That being said, one of the most common challenges of creating a luxury business card is to make it look high-end and creative without being too kitsch.
The most important feature of any luxury brand is its consistent theme. Throughout your business's operations, all of your typography, colors, and logo must be consistent. Instead of being inconsistent with your designs and starting from scratch, save time by using a custom-made template that only requires you to add your logo and appropriate text that would go well with your company.
Maintain as much cleanliness as possible. This is most likely the most important consideration. Using too many colors, images, and unnecessary text that does not add value to your brand will only distract and confuse your customers.
Less is always more when it comes to creating a luxurious look. Choose high-quality minimalist items and cards to boost the value of each element used. Using too many bold colors at once can make your brand appear too strong at first. To make everything look more balanced, use a subtle mix of golds, nudes, blacks, and other shades of the same or contrasting colors.
Patrick Gruber is homeless because
he made his dream of being a digital nomad real.
He started as a developer, ventured into Amazon FBA business, invested in the market, founded a Cardano Stake Pool, and started his blog in 2022.
His blog shares his insight into the LIMITLESS possibilities of life.
If you're looking to change your world and gain practical knowledge, you're in the right place. Keep reading to learn more.