Brave Browser Builtin Crypto Wallet – All You Must Know
The Brave Browser has been around for a while and has been steadily climbing the ranks in terms of popularity. Touted as a faster privacy-oriented alternative to competitors such as Chrome or Firefox, not to mention its capacity to enable users to earn cryptocurrencies from simply watching or viewing adverts, the Brave Browser presents a breath of fresh air in the crowded world of web browsers.
In this article, we will take a deep dive into the Brave browser and the built-in crypto wallet. We will highlight its features, usability, and overall design.
What is Brave Browser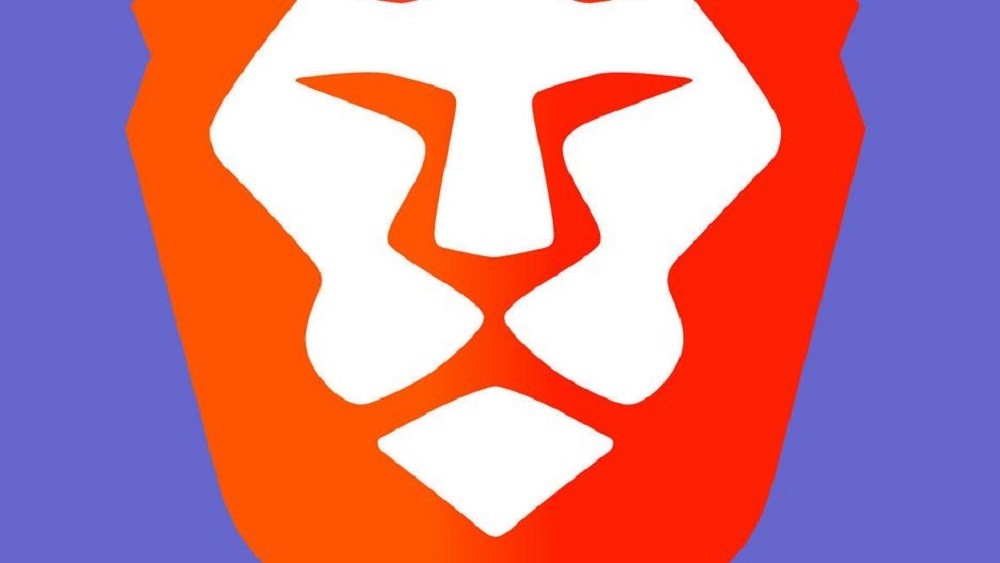 Brave Browser is a search engine focused on user privacy; Brave offers the same functionality as traditional browsers such as Chrome and Safari, however, uses built-in traffic and ad blockers
While it does have some disadvantages such as being slower at times or occasionally blocking scripts, the benefits of using Brave Browser far outweigh these issues.
One of its most distinguishing features is the ability to allow users to directly pay publishers through its BAT cryptocurrency system which cuts out the need for middlemen. Overall, we think that Brave Browser is an excellent choice for anyone looking for a more private and secure browsing experience.
Brave browser protects your privacy without using a VPN thanks to the Tor Network.
It has many interesting built-in features.
This browser has a reward system that allows you to give money to some websites.
Brave is one of the safest browsers on the market today. It blocks privacy-invasive ads & trackers. It blocks third-party data storage. It protects from browser fingerprinting.
Brave Browser, Crypto Wallets
The Brave browser crypto wallet is a built-in wallet, which means that it is integrated into the browser rather than being accessed via browser extensions. This is what distinguishes the wallet from its competitors.
Brave built-in crypto wallet was created as a fork of the MetaMask extension. There's nothing wrong with this because MetaMask's popularity is driven by the community.
However, as Brave evolved, the team realized that wallet extensions might not be the best option for achieving its security and privacy goals. That's when the concept of a built-in wallet came up.
It offers a good balance of convenience and security, as well as support for hardware wallets such as the Ledger and Trezor.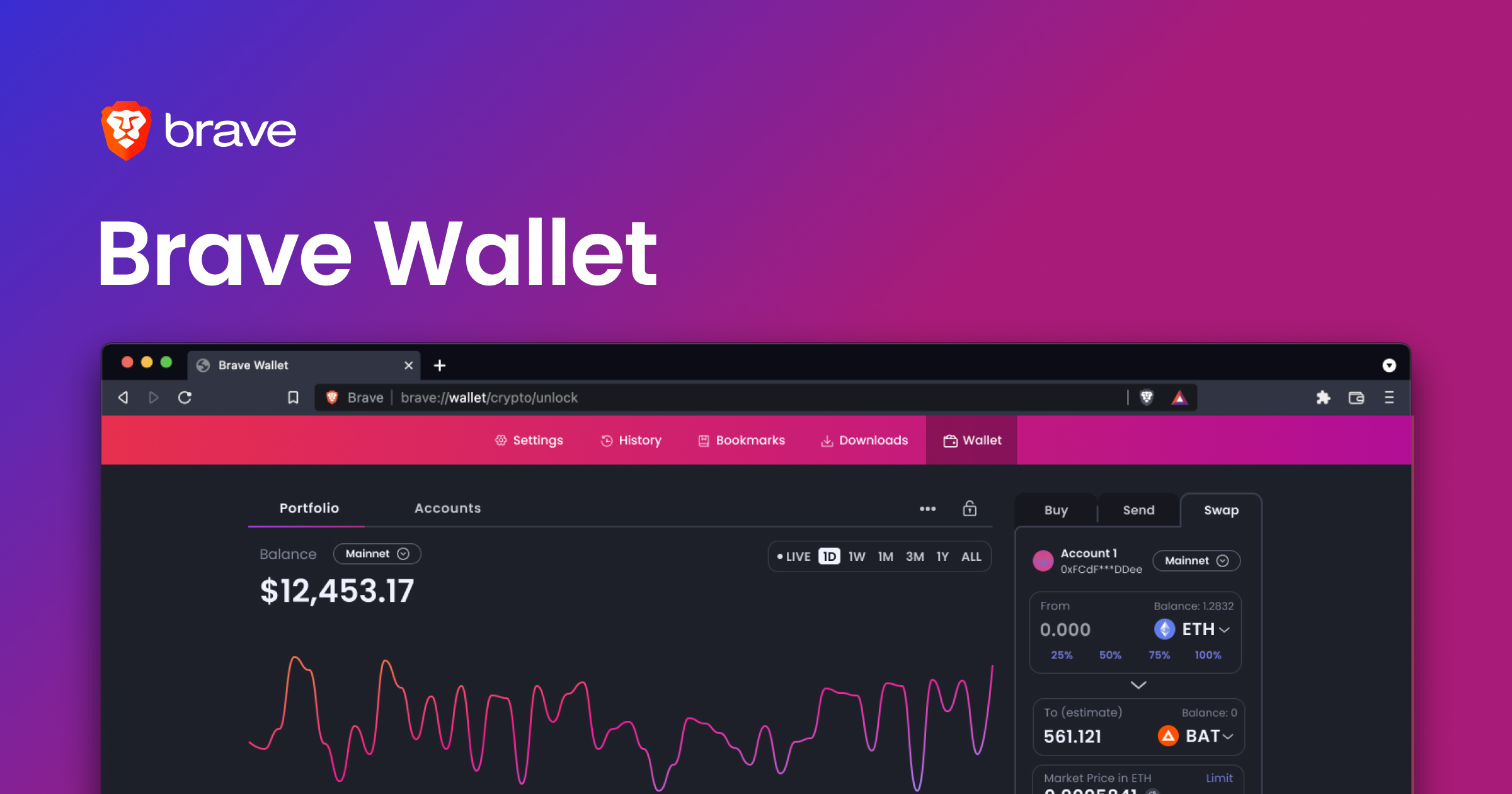 Brave Wallet Features
It is built with a variety of features ranging from its capacity to store, send and receive NFTs, interact with decentralized applications in the Ethereum ecosystem, find the best prices for token swaps, and easily import assets from other-self custody wallets such as MetaMask.
Other than storing crypto portfolio like Ethereum, Dogecoin, and others, the Brave Wallet offers various other features to users.
What Cryptocurrencies are Supported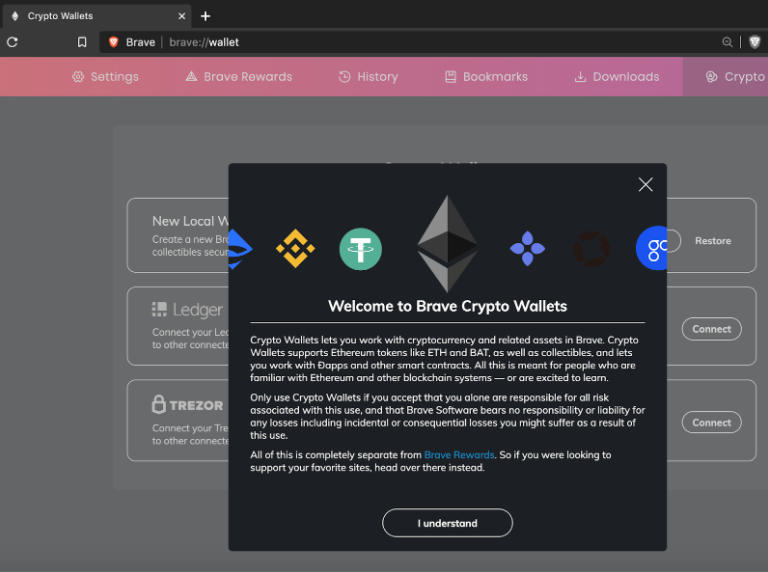 The Brave Wallet supports the Ethereum network and other crypto wallets, it can be used for storage of all ERC-20 tokens as well as other tokens compatible with the EVM or other Ethereum-based layer two solutions. Some of the top ERC 20 tokens that can be stored in the wallet include:
Ether (ETH)
Basic Attention Token (BAT)
Wrapped Bitcoin (WBTC)
Chainlink (LINK)
USD Coin (USDC)
Tether USD (USDT)
Some of the popular EVM-compatible chains include:
Polkadot (DOT)
Avalanche (AVAX)
xDai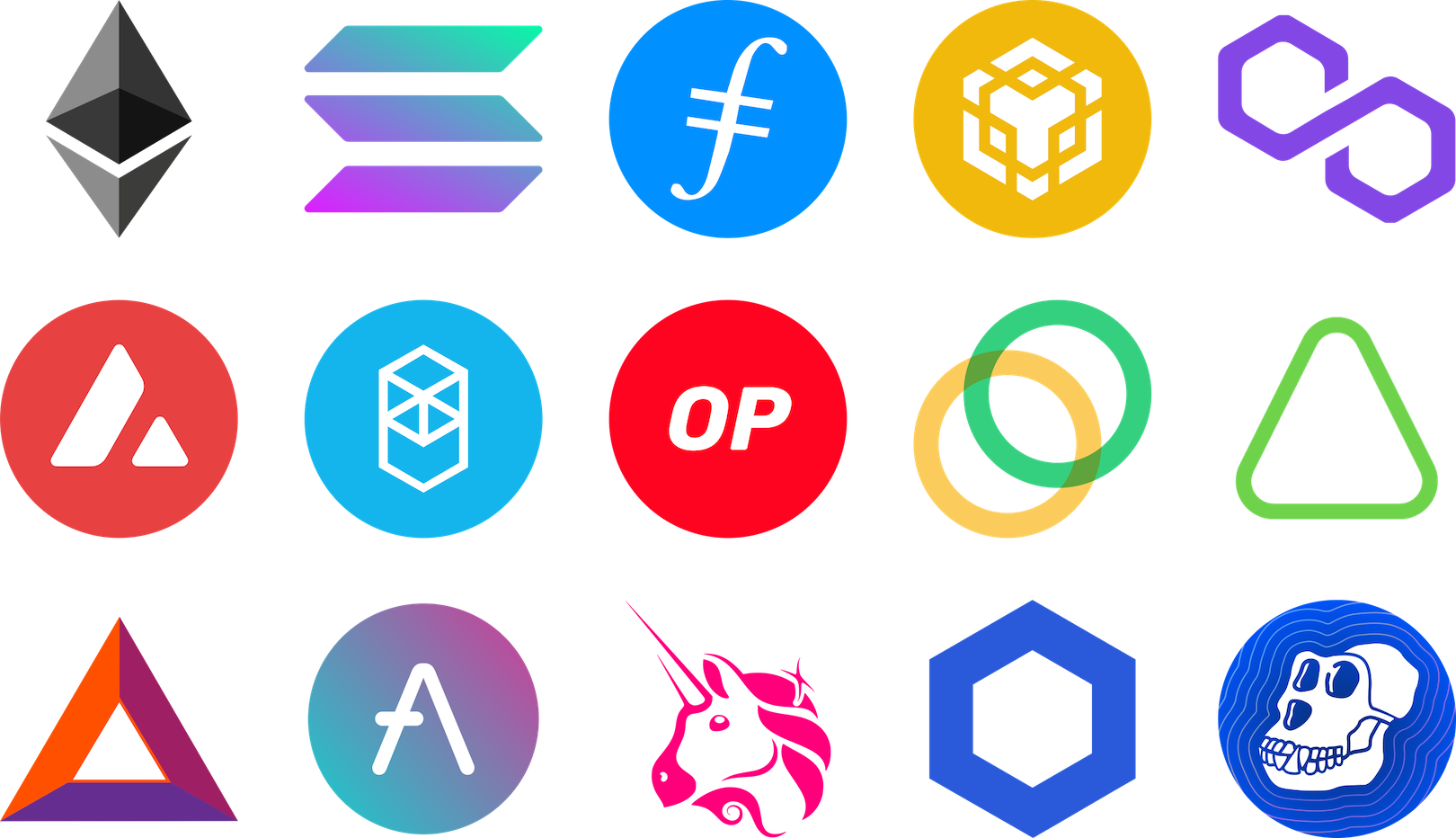 Brave Built in Crypto Wallet Security
While there is currently limited information on the security features that the Brave built in crypto wallet deploys, the fact that it is built natively into the Brave Browser adds a layer of security as there are no vulnerable loopholes for phishing attacks
In contrast, Brave Wallet is not a browser extension. Your funds are stored on the blockchain, but your seed phrase and private keys remain in your possession. You can enter your private key manually like a boss or paste it from a clipboard. The browser developer aims to provide an alternative solution that avoids the security risks of software wallet, which is more susceptible to phishing scams and theft.
Secured and Safe Transactions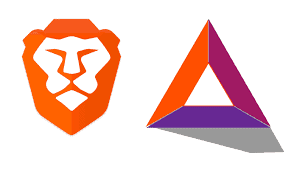 "Users can transact with almost any crypto asset with superior safety and performance, as well as connect with other wallets and Web3 decentralized apps," it further added. And it's likely that a good portion of Brave users will enjoy a crypto wallet, based on the browser's long-running support for blockchain currencies and applications — as long as they're willing to import their crypto assets.
Brave Wallet does not require extensions; it's browser-native, reducing security risks and reliance on extra CPU and memory," the company wrote in the blog post.
The Brave browser is fast and efficient
This browser is fast, very fast. Whether it is on Windows or on Mac, on a desktop browser, or on mobile, browsing on Brave is comfortable. With Brave Shields, by blocking ads, trackers, cookies, and all sorts of tracking scripts, pages are loaded much faster.
Get Started With How To Use Brave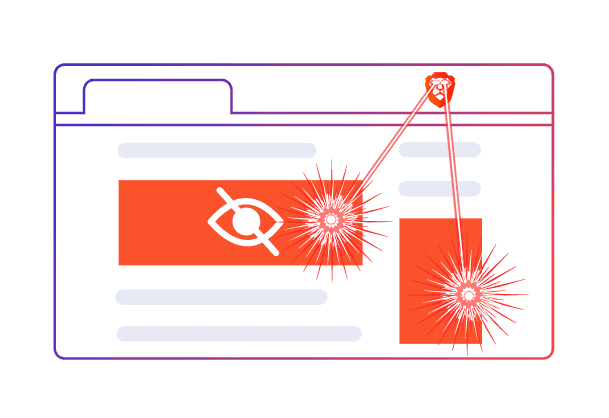 To begin using Brave wallet, you must first install the most recent version of Brave Browser. Simply launch your downloaded browser and navigate to the Wallet icon in the toolbar.
The Wallet icon can be found in the menu section of the mobile version.
Brave Wallet is easy to use and compatible with all major platforms. You can also try out Brave Browser for free to see how the two platforms interact.
How to Set Up Your Brave Wallet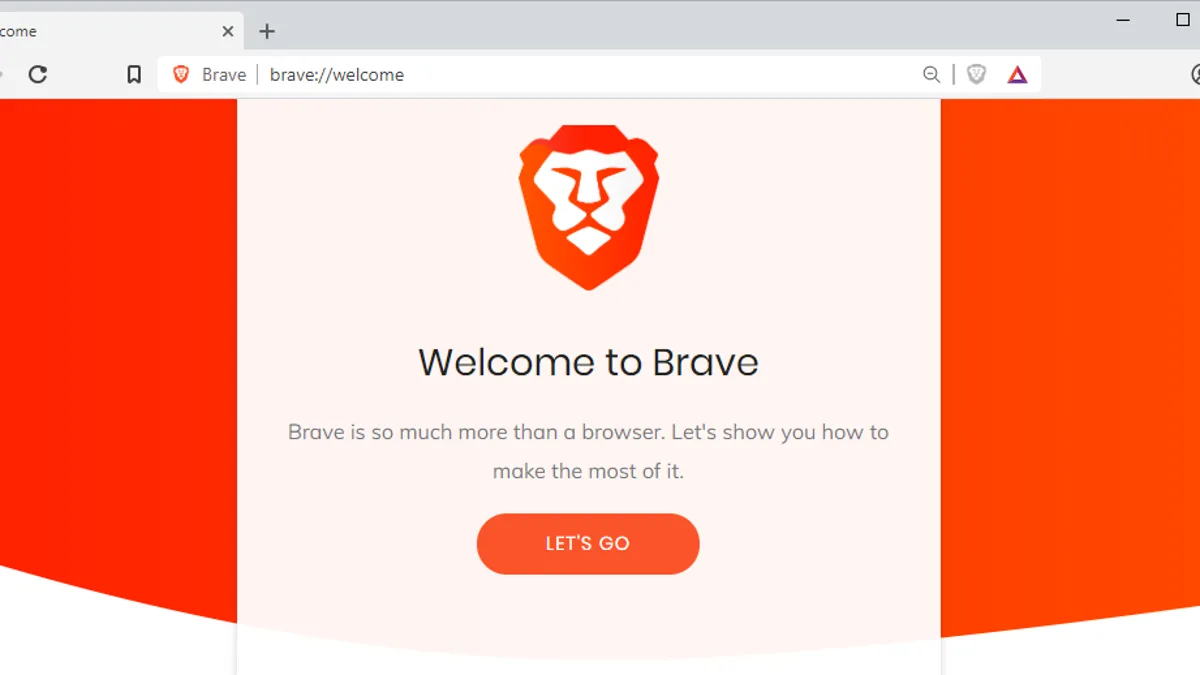 From any Brave tab, select the wallet icon from the upper right corner of your main browser toolbar. If you have already linked a crypto wallet to your Brave account in other ways, like through plugins or extensions, Brave will detect those wallets now and offer to import that information.
You can also select the Get Started button to add other wallets. Finally, you can link or create an account with the Gemini crypto exchange directly through Brave. This makes it easier to buy, sell, and trade crypto, including trading your BAT in for other tokens.
Linking a Browser Wallet
Linking a wallet that you already have a plugin or extension for is easy—just enter your password. You can even choose whether you want to use the same password to continue using that wallet, or you want to make a new password to use that wallet.
Linking Soft Wallets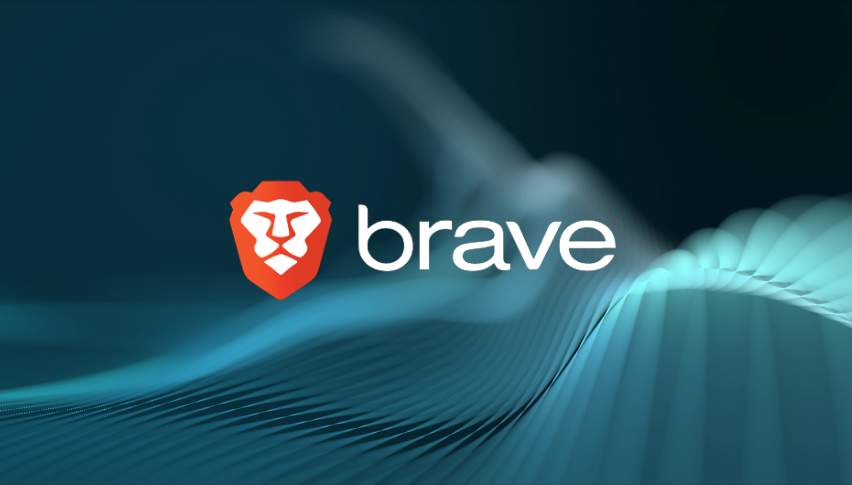 Soft wallets can be linked using either a private key or a JSON file and an origin password. You can enter your private key manually like a boss or paste it from a clipboard.
Whether you use the private key or a JSON file, you also need to create an account name. This is because the Brave Wallet also has a portfolio view that lets you view multiple integrated wallets at a glance.
Brave Wallet Pros & Cons
Pros
Non-custodial wallet
EVM compatible network and other layer 2 solutions
Supports storage of ERC-20 tokens as well as NFTs
Comes with a built-in swap functionality
Built-in anti-phishing and theft protection
Cons
Doesn't support the storage of Bitcoin
Not yet available on Brave Browser's mobile application
New wallet so security is relatively untested
Frequently Asked Questions
Is the Brave Wallet Safe?
The Brave Wallet offers secure and reliable storage of tokens within your device as it is built into the browser itself.
Does the Brave Wallet Support Bitcoin?
This software wallet does not support the storage of BTC at the moment but they are working on adding it to their upcoming releases. However, you can store Wrapped BTC, which is an ERC-20 equivalent of BTC.
Can anyone add custom networks to the Brave Wallet?
Yes, you can add EVM-compatible networks to the Brave Wallet. These include networks such as Polygon, Binance Smart Chain, and Avalanche. With this compatibility, you can store tokens native to these networks.
Conclusion
The Brave Wallet requires no extensions and is instead browser-native, removing key performance and security concerns while preserving the core features of popular crypto wallets
It provides a lot of value for free and can be used with a variety of crypto assets. While it is an excellent platform, it does have some shortcomings. One thing to keep in mind is that it cannot be used to receive your monthly BAT rewards. To receive your rewards, you must still go through a custodian such as Uphold, Gemini, or BitFlyer.
Brave Wallet, on the other hand, is a fantastic wallet that is jam-packed with security features to protect user assets from theft, unauthorized access, and phishing attacks.
Overall, it is a high-quality product that should be on the short list of digital asset storage solutions for anyone.
Patrick Gruber is homeless because
he made his dream of being a digital nomad real.
He started as a developer, ventured into Amazon FBA business, invested in the market, founded a Cardano Stake Pool, and started his blog in 2022.
His blog shares his insight into the LIMITLESS possibilities of life.
If you're looking to change your world and gain practical knowledge, you're in the right place. Keep reading to learn more.