In the past, pocket watches for men were common because they were distinctive symbols of wealth and had the best accuracy possible, making them ideal for professions where schedules and timekeeping are crucial. They have lost popularity because they aren't as useful as wristwatches or mechanical watches. However, pocket watches for men are excellent for any profession where a wristwatch won't function or where a digital watch's electronics are a problem.
The pocket watch is great for that extra touch of class, even in situations where a wristwatch is suitable.
12 Popular Pocket Watches of The Year
Below is a list and price, of 12 popular pocket watches, arranged in the price range of $100 to $10,000.
Bulova Classic Pocket Watch
Hand Date
Quartz Movement
Silver-Tone Stainless Steel
Black Dial with Detachable Chain
30M Water Resistant and
3 Year Limited Warranty

~ 150 $
5 Pocket watches under 700 dollar
BEST AS a GIFT
GOTHAM

Mechanical hand-wind
Silver Stainless-steel
Presentation box
Full hunter case
~ 200 $

Best dual time
STÜHRLING



Automatic watch
Golden Stainless-steel
Belt-clip included
Dual time AM/PM
Face open case
~ 250 $
BEST half hunter
CHARLES-HUBERT



Mechanical hand-wind
Golden Stainless-steel
No water resistant
Half hunter case
~ 300 $


TISSOT
Mechanical hand-wind
Yellow-Golden Stainless-steel
30 m water resistant
Open face case
~ 550 $

BEST FULL hunter
SEIKO





Quartz movement
Sapphire glass
Golden Stainless-steel
100 m resistant
Full hunter case
~ 700 $
6 Pocket watches above 1000 dollar
BEST as a LUXURY GIFT
JEAN PIERRE

Mechanical hand-wind
Sterling Silver
17 jewels
Luxury gift packaging
Open face case
~ 1200 $
Best COLLECTOR WATCH
OLE MATHIESEN


Mechanical hand-wind
Silver Stainless-steel
Pre-worn from 1970
Multi-Time
Face open case
~ 3000 $

BEST 14k GOLD watch
WALTHAM

Mechanical hand-wind
14k Yellow-Golden case
No water resistant
Open face case
~ 6000 $


BEST 18k GOLD WATCH
VACHERON & CONSTANTIN
Mechanical hand-wind
18 k Golden case
Manufactured 1920
Full hunter case
~ 8000 $


MOST ACCURATE TIME
L. LEROY & CIE



Mechanical hand-wind
Award winning 244 Points
18 k Golden case
Manufactured 1901
Open face case
~ 9000 $
BEST GOLDEN FULL HUNTER
JEAN PIERRE




Mechanical hand-wind
9 k Golden case
New watch
Full hunter case
~ 9000 $


Pocket Watch: An Early and Modern History of the Pocket Watches
A pocket watch, as the name suggests, is a watch worn in a pocket. They are very different from wristwatches, which are usually worn and fastened on the wrist.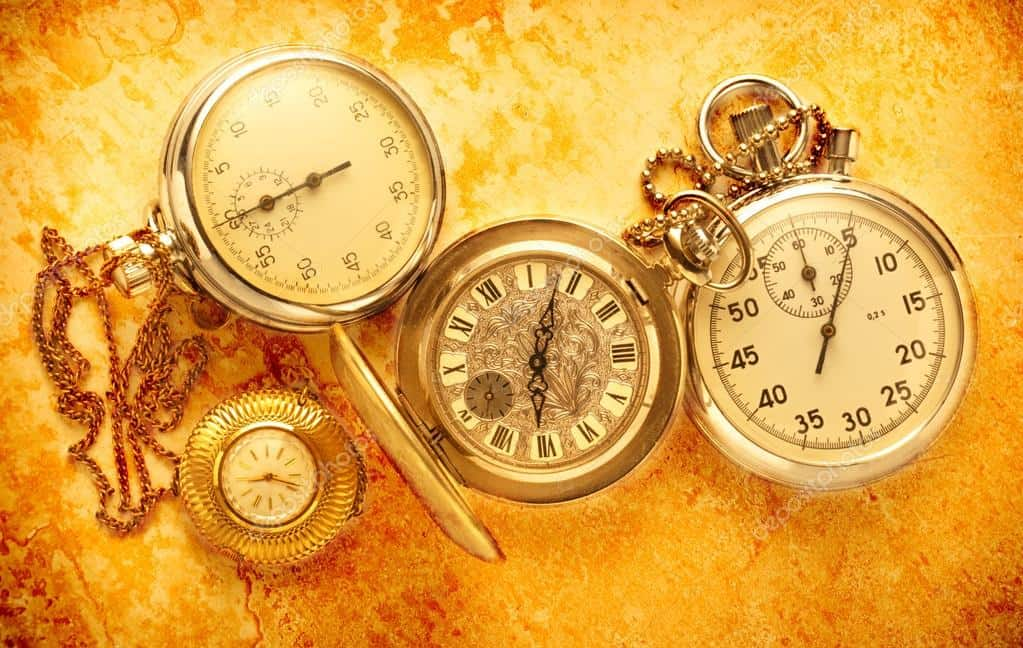 The watch was invented in Nuremberg, Germany, by master locksmith Peter Henlein in 1510. It spread throughout Europe in the 16th century.
In the 15th century, pocket watches were used to distinguish between social classes because only the wealthy could afford them. Early prototypes of the classic styles of the pocket watches were worn around the neck, rather than on a chain, like an Albert T Bar chain. These first designs were used by historical figures such as the Duke of Modena, the Marchese di Manta, and Meshur Sheyh Dede.
There are six main types of pocket watches. They include:
1) Open-Face Pocket Watch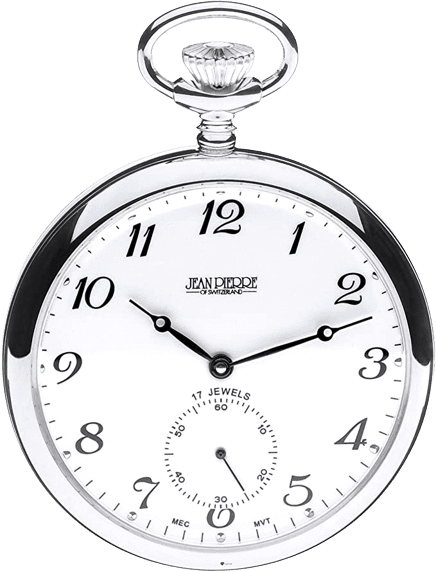 The open-face quartz pocket watch is one of the oldest watch designs and is often called a "railroaders' watch" because railroad workers were required to carry a quality pocket watch in the 1880s to ensure accurate timings.
2) Full Hunter-Case Pocket Watch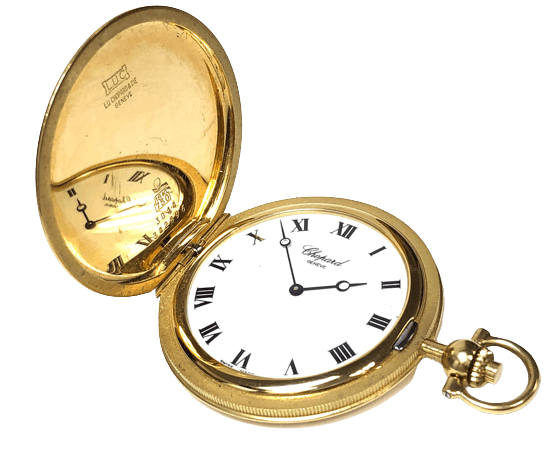 A full hunter-case pocket watch is distinguished by a case with a spring-loaded hinged circular metal cover that protects the watch's dial and crystal. The name comes from England, where fox hunting was popular at the time, and these style of pocket watches were commonly used by hunters.
3) Half Hunter Pocket Watch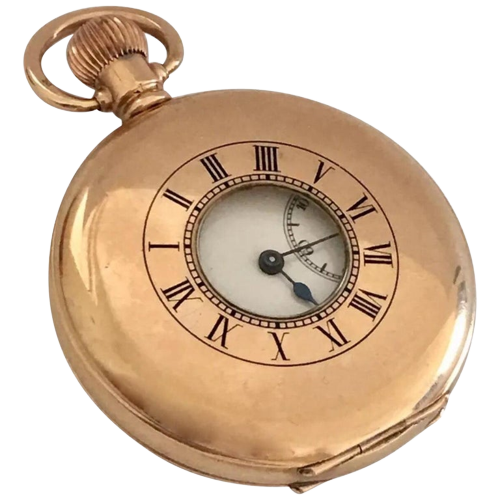 A Half Hunter pocket watch has a lid with a dial and a small round window that allows you to view the dial and the time when the lid is closed.
4) Double Hunter Pocket Watch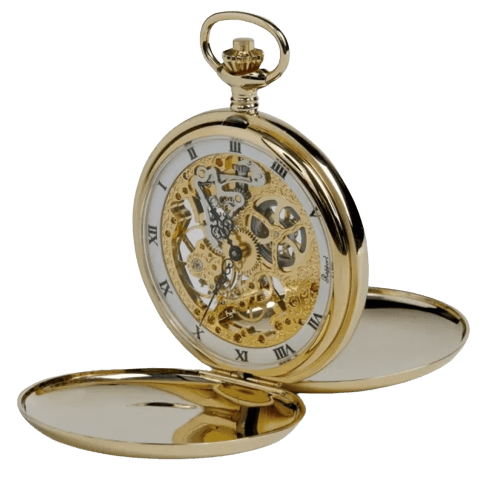 The double hunter pocket watch has many of the same features as the classic full hunter pocket watch version, but the front face of the pocket watch is covered by a protective lid, while the lid on the back of the pocket watch opens as well.
5) Half Double Hunter Case Pocket Watch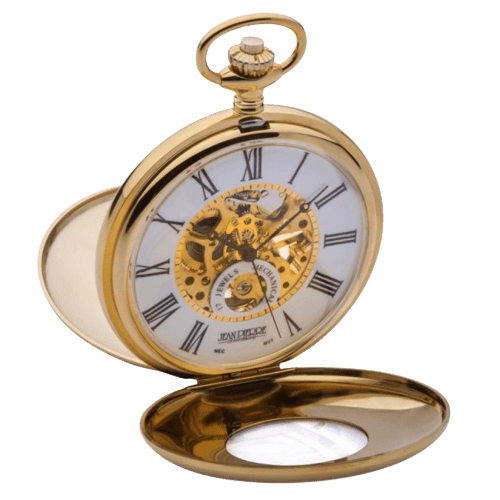 The Half Double Hunter pocket watch front face is covered by a protective lid also the back too, but the front face has a small round window. When the lid is closed, the time and movement can be seen through the cover.
6) Nurse's Fob Watch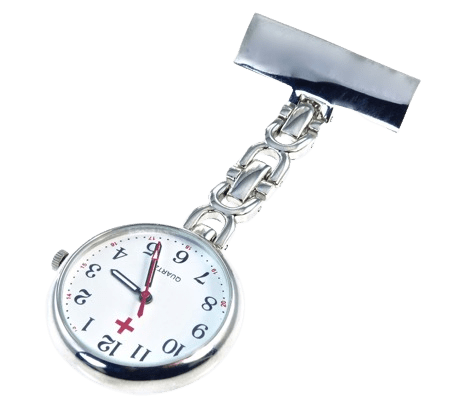 A nurse's fob watch is a type of pocket watch that is not always worn in a pocket. Most of these watches have much smaller faces than any other traditional pocket watch, up to half or a quarter the size of a traditional pocket watch.
The Resurgence of Vintage Types of Pocket Watches

Everyone, including watchmakers, appears to have heart-shaped eyes for vintage pocket watches, right now. Patek Philippe, Breitling, and Omega have recently been mining their archives, reissuing mid-century models, and resurrecting design elements with retro appeal. Pocket watches have grown in popularity as new generations of people discover and fall in love with these stylish timepieces of the past due to their historic value, horological value, and fine craftsmanship.

Learning more about the history and operation of vintage pocket watches is becoming increasingly important for collectors and individuals who prefer to wear period-correct timepieces.
A List of the True Best Affordable Watch Brands
The watch industry has a hidden secret – there are more poor-quality watch brands than quality ones. By "poor quality," I mean the timepiece's quality and the actual value you get for the price you pay. This is a list of brands that are quality-wise better than most, and are affordable. These are the best affordable watch brands.
Casio G-Shock
Few brands bring to mind the wonder and nostalgia of childhood like Casio.
The Casio G-Shock is a fantastic design. This watch has a dial with luminous minute hands and a digital date and day display. This watch's glass has a mineral composition for long-term protection. The watch has shock resistance and a water resistance rating of 200 meters. This watch has an exceptional caliber reserve.
Hamilton Jazzmaster
The story of Hamilton watches has generally caused some confusion. In the 1890s, it originated in the United States, but shifted to Switzerland in 1969, making it difficult to label it as an American brand.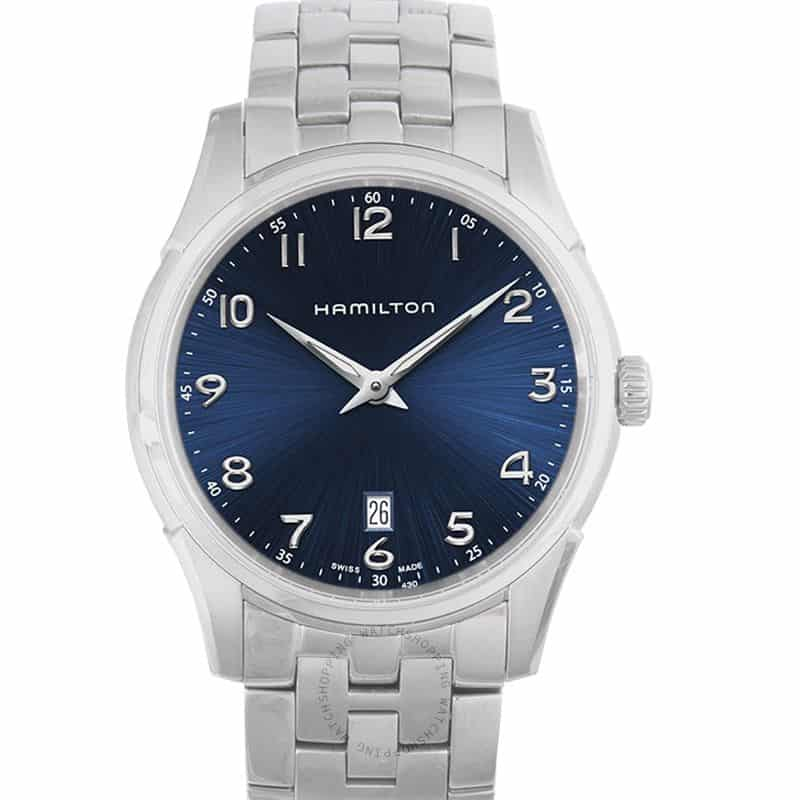 The Hamilton Jazzmaster is a beautiful wristwatch that features a blue dial and bright silver-tone hand and minute markers. The bracelet is made of stainless steel and has a fold-over safety release buckle. The silver side watch is resistant to scratches with a scratch-resistant sapphire crystal.
Citizen Promaster
Citizen maintains its position as a pioneer in watchmaking and innovative technology.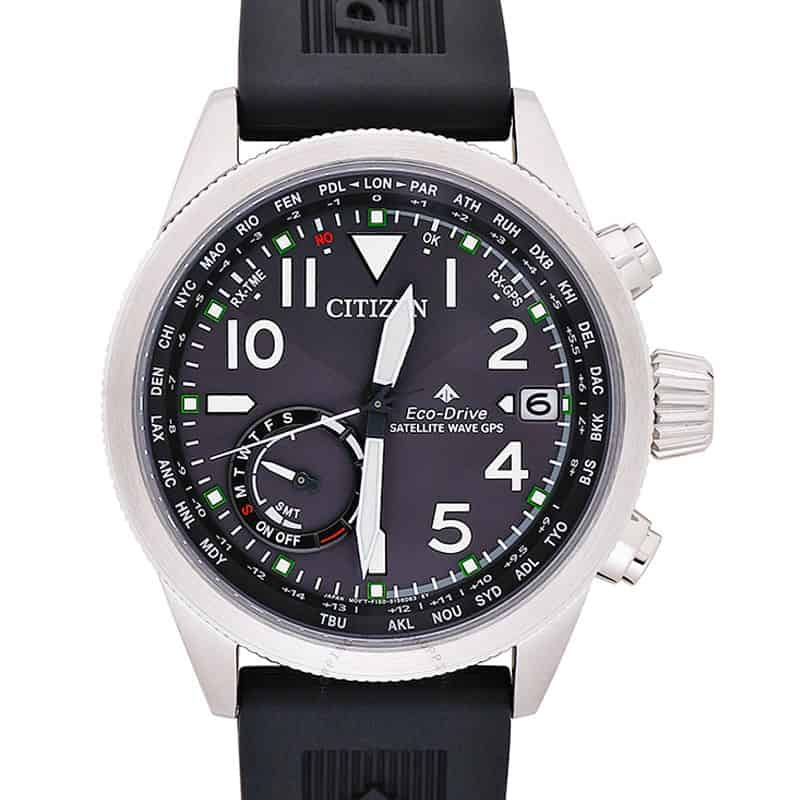 This Citizen Promaster series watch is made of high-quality materials and features a beautiful black dial with gold and silver hour markers and hands. It also has a durable glass cover and a date window at 3 o'clock. The watch is made out of stainless steel and has an antireflective coating, making it durable and resistant to scratches.
Bell & Ross Diver
Bell & Ross is a well-known watch brand that produces high-quality timepieces for professionals.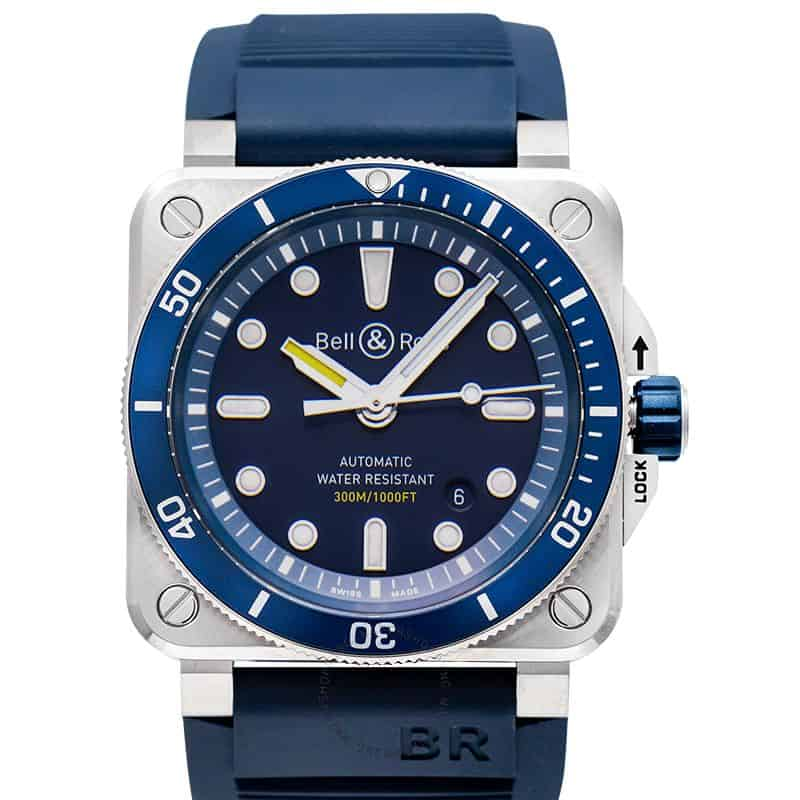 Just consider this appealing blue Bell and Ross timepiece. It displays the current time as well as the date using metallic Super-LumiNova-filled hands. It has a 42-mm case with an anti-reflective coating and sapphire crystals. The watch has a 60-minute scale on a raised unidirectional rotating steel bezel. The sky-blue anodized aluminum insert gives the watch a pop of color. This watch can withstand a depth of 300 meters. The strap is made of soft blue rubber and an ultra-resilient synthetic black fabric that exudes grace and sophistication.
Omega Seamaster Diver
Omega watches have been at the forefront of watchmaking for over 150 years, and have been worn to the moon and by many famous people, including British spy James Bond.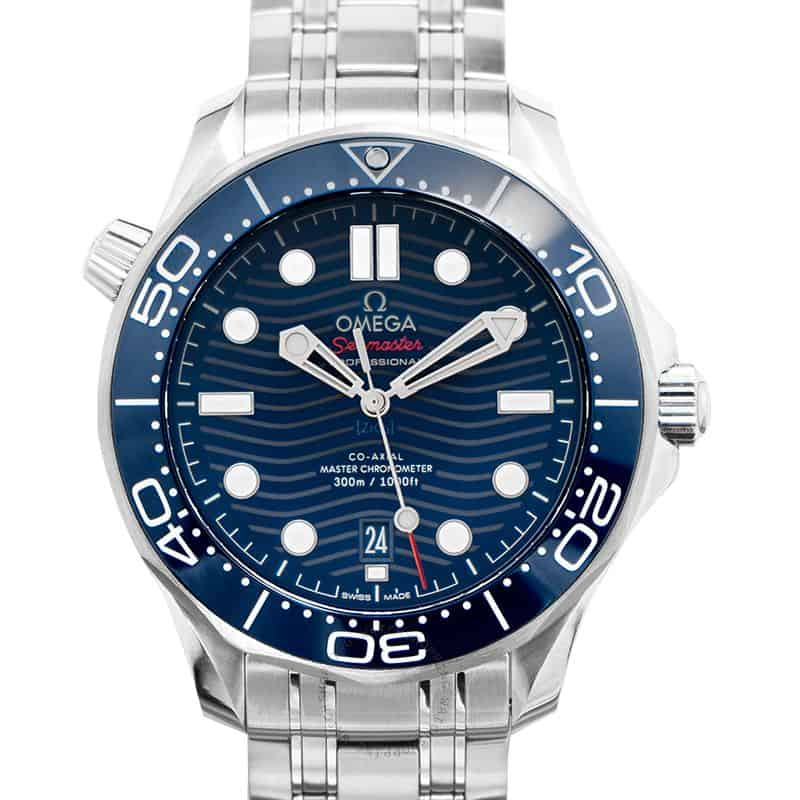 The Omega Seamaster Diver is inspired by the blue sea, as the name suggests. This watch combines silver and blue to create an alluring look. The top ring of the unidirectional rotating stainless steel bezel is blue ceramic. The Blue dial with rhodium-plated hands and dot hour markers completes the look. The clear case back allows you to see the internal mechanisms. This Dive-style watch is water-resistant to 1000 feet and goes well with both casual and formal attire.
Breitling Superocean Heritage
Breitling has been known throughout its history as a trusted companion for pilots.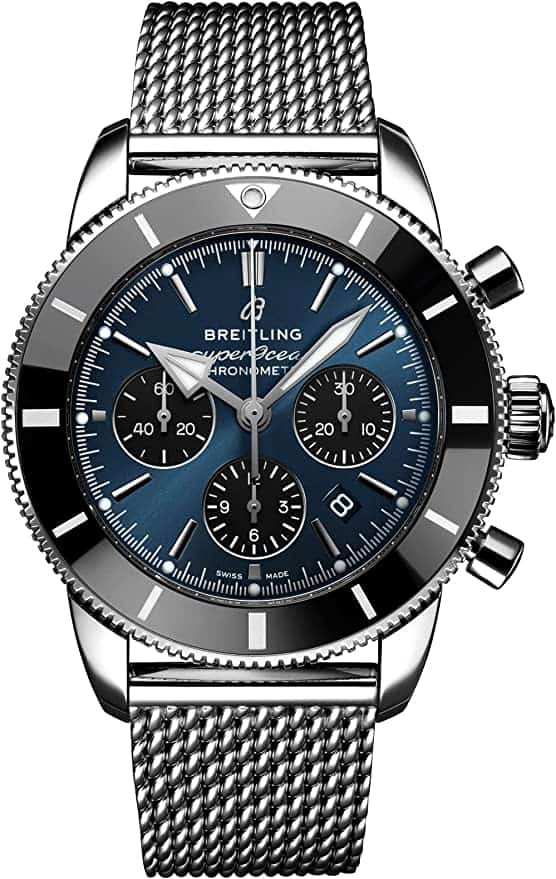 This beautiful Breitling Superocean Heritage II watch is perfect for anyone who wants a sophisticated and elegant timepiece. It is made of stainless steel and has a silver-tone mesh band. It has automatic movement, 200 meters / 660 feet water resistance, and a Uni-directional Rotating bezel. The watch is scratch resistant and has a solid sapphire crystal. The case back is foldover with a safety release clasp. The screw-locked crown is also solid. The band is 22 mm wide and long, making it comfortable to wear.
Have Questions? We Have Answers.
Conclusion
The pocket watch will keep ticking as long as it is passed down as an heirloom, its design makes it suitable for certain occupations, or it is considered classic. Enjoy the timeless vintage style, and make sure to wind it up every now and then!
Patrick Gruber is homeless because
he made his dream of being a digital nomad real.
He started as a developer, ventured into Amazon FBA business, invested in the market, founded a Cardano Stake Pool, and started his blog in 2022.
His blog shares his insight into the LIMITLESS possibilities of life.
If you're looking to change your world and gain practical knowledge, you're in the right place. Keep reading to learn more.