Data management, security, and storage are some of the most important things a big business needs in the twenty-first century. However, managing these systems can be hard and expensive. The wide range of applications made to host and handle your most sensitive tasks can be expensive and don't always work well together.
Enterprise resource planning (ERP) is a way for a company to solve its biggest problems in real-time using software. To solve these problems, you need to have a clear idea of what ERP is, what it can do, and how it can help your company reach its goals.
List of Top 12 ERPs
Small Business ERP Systems
Kinetic
TallyPrime
Dolibarr ERP CRM
Microsoft Dynamics 365 Business Central
Medium-Sized Business ERP Systems
Acumatica
Sage Intacct
ERPNext
NetSuite
Big Business ERP Systems
SAP S/4HANA Cloud
SAP ERP
SAP Business ByDesign
SAP Business One
What is an ERP Software System
Enterprise resource planning systems (ERP) is a type of software system that helps organizations automate and manage core business processes for optimal performance. They are complete, integrated systems that manage all aspects of a business that makes or sells things.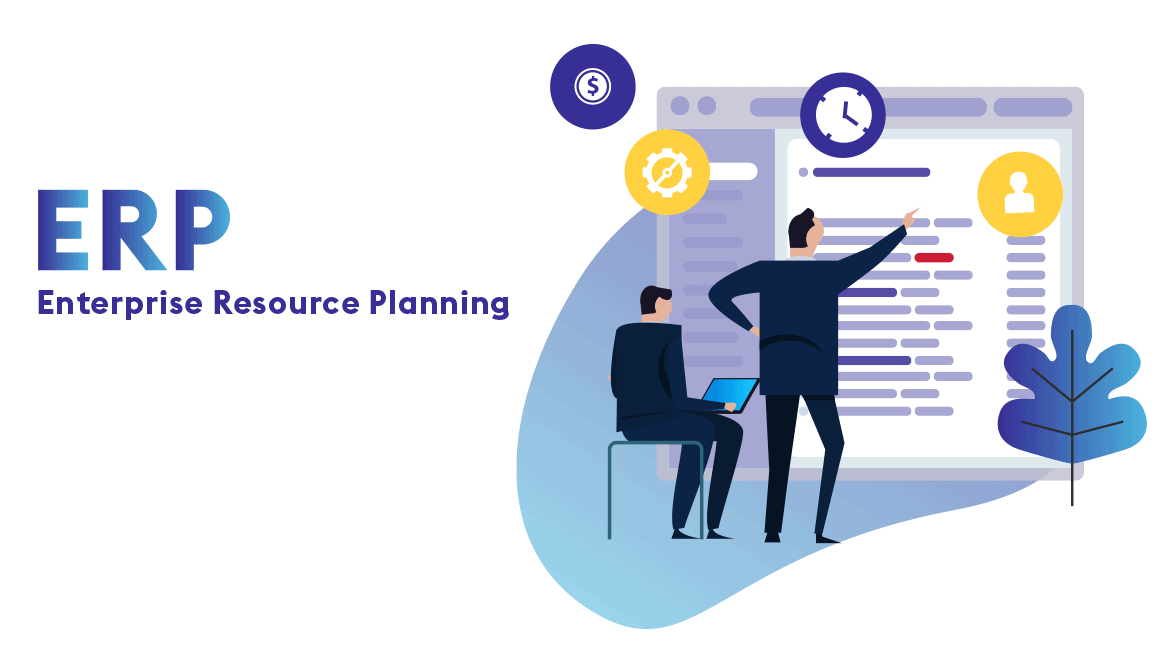 They do this by aligning accounting with the core functions of financial management, human resources, supply chain management, manufacturing, and selling. ERP systems are used to keep track of all aspects of production or distribution, finances, and the back office. This makes the whole business process clear. These large systems serve as a central hub for all data and workflow from beginning to end. ERP systems keep track of information that many departments can look at to make sure the right steps are being taken.
Manufacturers and retailers use ERPs. ERP solutions ensure that all company operations are uniform from start to end by avoiding department-specific goods. This aids corporate expansion. ERPs can operate with CRM and PSA software and perform a lot on their own.
Users can build their own ERP system from various products. As ERP modules are available separately, some people only buy the ones they require. Project-focused organizations may employ project-based ERP systems that don't make items but provide a complete business solution.
Who needs an Enterprise Resource Planning system (ERP).
ERP solution is used by most, if not all, employees because it has features for most parts of a business. ERP is needed in a few of the departments on the list below.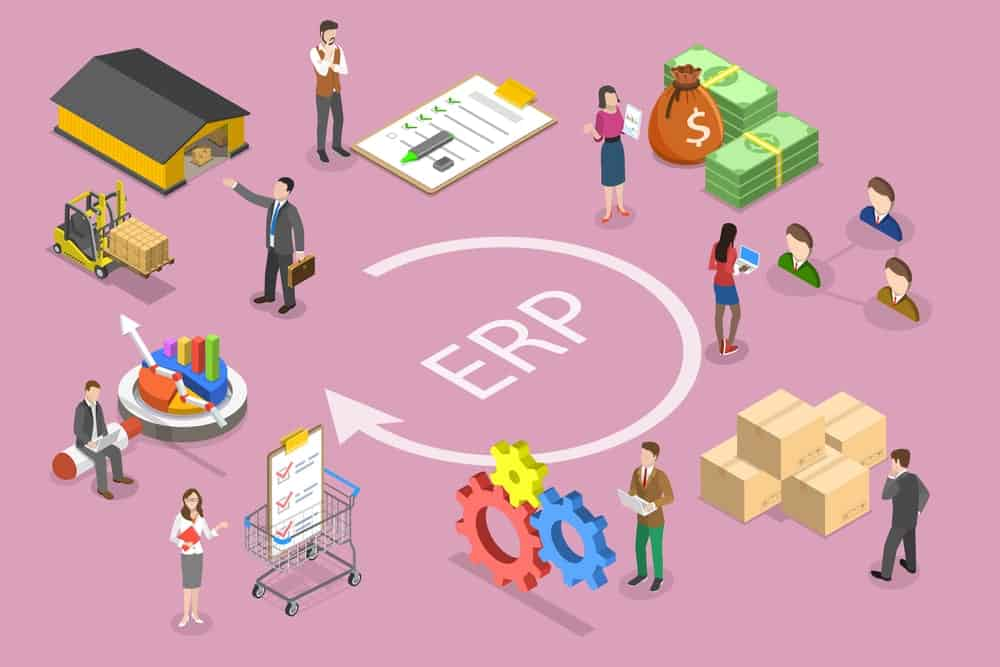 Accounting and finance: ERP helps accounting and finance track all firm money. A firm must utilize generally accepted accounting principles to track everything it buys and sells, as well as direct (like wages and commissions) and indirect (like insurance and utilities) costs (GAAP). Finance professionals utilize ERP to prepare financial statements for internal and external audits.
Operations: ERP helps operations teams perform company-specific activities. For instance, production operations are unique to manufacturers, project management and delivery to professional service providers, and warehousing and inventory management to retailers. Many firms need inventory management. Project and portfolio management are only utilized in professional services.
Sales: ERP contains valuable product and sales data for sales teams. Most ERP software can track credit limits and recover debts.
Product: Product development teams rely on ERP data. Sales data can reveal popular products, while returns and issues might assist the company to improve its offerings. ERP and PLM/CAD solutions allow engineers and designers to notify the manufacturing department of product modifications.
Purchasing and procurement: Buying and procurement find and buys things and services a firm requires, such as raw materials and parts for manufacturers, consultants for professional services organizations, or logistics providers for distributors. Procurement requires knowing what a company needs and when. ERP systems track sales order fulfillment. Compare this data to stock, to choose what to buy. ERP systems track raw material and part costs, helping procurement negotiate.
Quality management: Manufacturing, distribution, and professional services all need quality management. The food and drink sectors have strict quality standards and severe penalties for violations. Most manufacturing ERP systems track quality, however, it can be provided separately.
What are the Benefits of Enterprise Resource Planning systems (ERP)?
Here are some of the most important parts of ERP systems that help users manage their relationships with customers, plan and schedule operations, and keep track of costs and profits.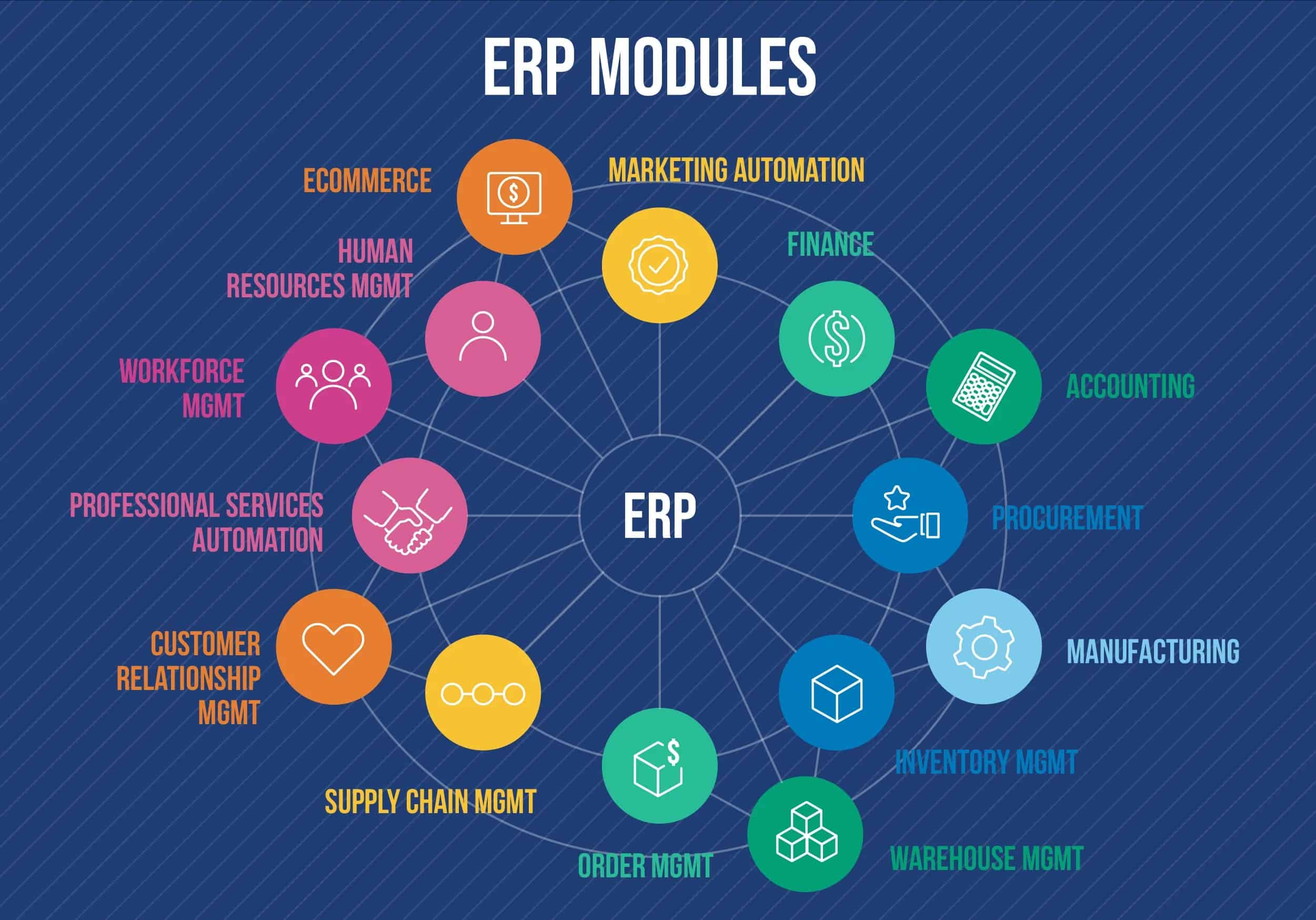 ERP systems offer a variety of modules, and while each business has its own needs, most ERP systems offer the following:
Accounting features like the general ledger, accounts payable and receivable, budgeting, and cash management
Human resources (HR) functions like hiring and payroll, or integration with HR and payroll solutions
Basic sales and customer management tools or integration with CRM solutions
Functions to make different types of quotes, sales orders, and returns
Workflows for buying and managing orders to buy
Software for managing inventory and warehouses, which includes picking, packing, and shipping
Distribution companies can use modules like demand planning and transportation management to manage their supply chains.
Companies that make things use production modules with features like the bill of materials (BOM), manufacturing resource planning (MRP), and quality management.
All of the modules in the ERP solution have their own reports and analysis tools.
Top 6 ERPs for your Business Functions
1) Microsoft Dynamics 365 Business Central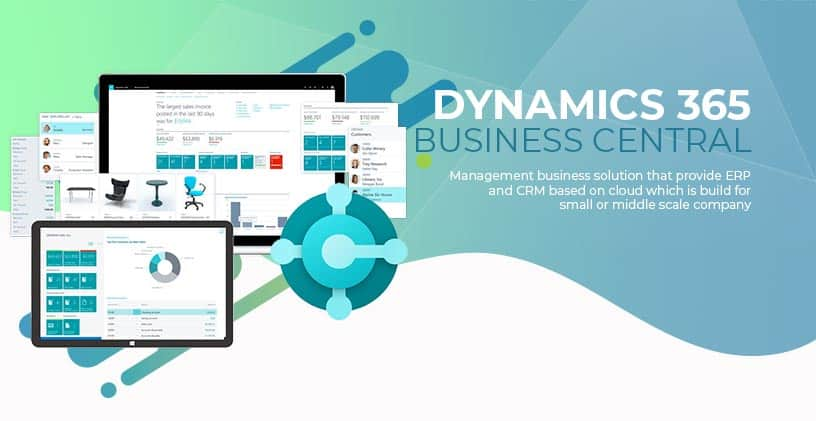 Microsoft Dynamics 365 Business Central is a complete business management solution that helps small and medium-sized businesses connect their finance, sales, service, and operations teams through a single, easy-to-use application. Accelerate deployment and adoption with step-by-step onboarding guidance, contextual next-best action intelligence, and the ability to work with familiar Microsoft 365 apps.
Move your digital business processes to the cloud with confidence to improve them and get the insights you need to adapt faster, work smarter, and do a better job. Every day and every minute brings something new. With Business Central, you can be ready for whatever comes next and open up a world of possibilities.
What is special about this ERP?
Microsoft is one of the largest and most advanced software companies in the world. Because of this, it can offer CRM features that most companies, even direct competitors, can't match. For example, Dynamics 365 helped HP make a virtual agent that helped with customer service for more than 600 million people. The CRM applications in Dynamics 365 can connect easily to other software systems and business departments.
This makes it easier for employees to work together and for customers to talk to them. This helps to build stronger relationships with customers, increase the number of sales, and lower the cost of service without lowering the quality of service. When the CRM is connected to the Dynamics 365 ecosystem, it can access a single, complete set of customer data that can be looked at from different angles.
As a whole, the Microsoft Dynamics 365 CRM and ERP ecosystem is thought to be the best business software suite on the market. Analyst firms like IDC and Forrester say that Dynamics 365 is a leader in its field. Gartner's Magic Quadrant says that Microsoft, along with Oracle ERP cloud and Infor CloudSuite, is a leader in cloud ERP for companies that focus on their products.
Microsoft is a well-known software company that offers some of the best business solutions in the world. But businesses shouldn't rely on reviews from people outside of their company when evaluating software. Instead, they should focus on their own needs.
What are the costs to introduce this system?
Pricing for Microsoft Dynamics 365 is based on a subscription model that is mostly based on how many users or tenants use the system. Microsoft, unlike most of its competitors, has a price list for all the CRM modules that it used to offer through its Customer Engagement software. Transparent pricing is a good thing, even if the à la carte pricing method seems a little hard to understand at first.
What are the Costs to Maintain this ERP?
If you've ever bought a cheap appliance like a refrigerator, you know that what seemed like a good deal at first wasn't one at all. In addition to figuring out how much it will cost to implement, you should also figure out how much it will cost to keep the service running, including tech support and training for users.
This service can come from different places and cost different amounts, depending on whether or not you have an IT team and, if you do, how well they know your new software and how much they know about it.
How can you test the ERP?
Testing is done from their official website. Kindly visit the link below to test this ERP.
2) TallyPrime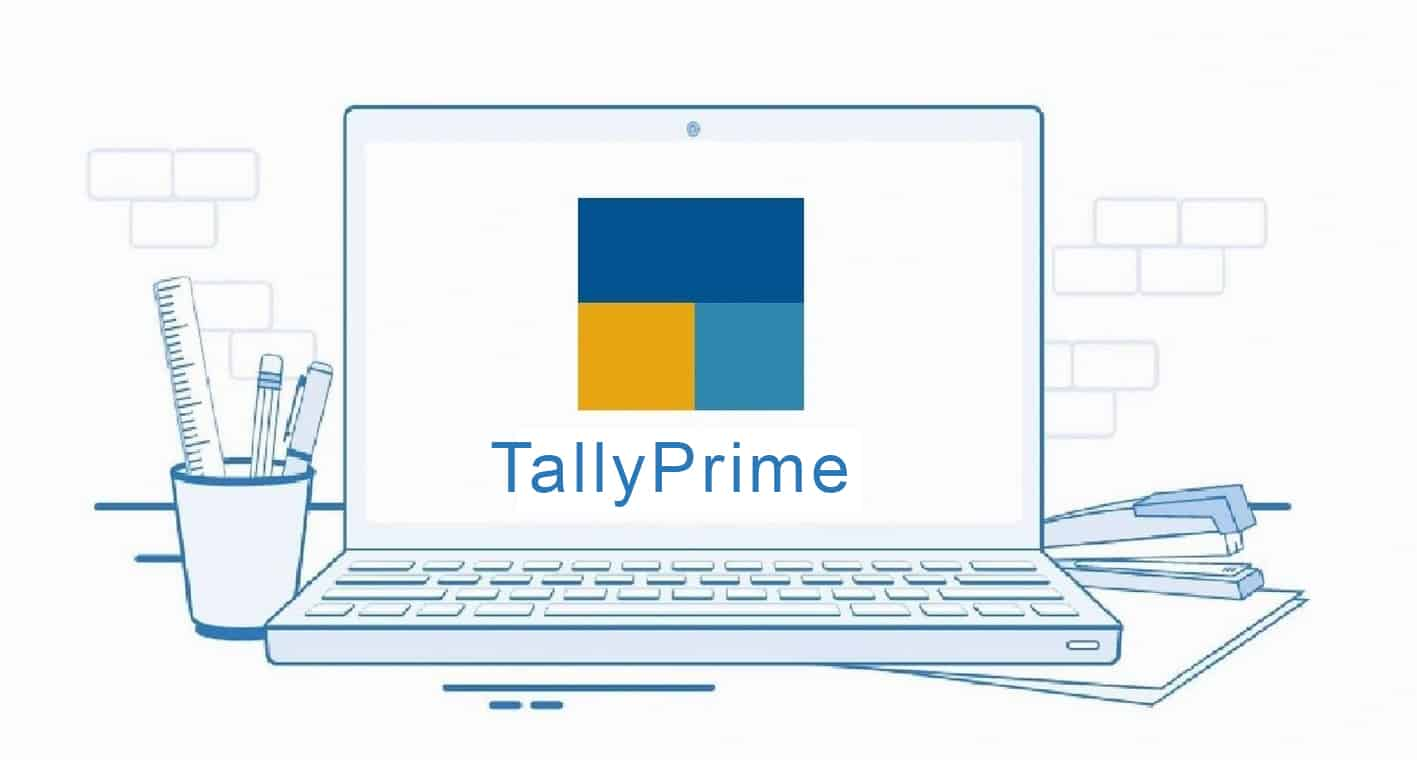 TallyPrime, made by Tally Solutions Private Limited, is an enterprise resource planning (ERP) software suite that is easy to use but still very powerful. It makes accounting easier for the whole business. It was made for small to midsize businesses (SMBs) and helps organizations in a wide range of fields, such as information technology (IT), finance, automotive, engineering, hospitality, consumer goods, and not-for-profit.
Organizations in more than 100 countries use TallyPrime to closely manage their finances from a central system that gives users a full view of all financial activities in the business.
Tally Solutions Private Limited was started in 1986 in Bangalore, India. It has helped more than 2 million businesses around the world with their software needs.
What is special about this ERP?
TallyPrime has a number of features that are meant to help businesses run smoothly and effectively. There is a fully integrated accounting module with support for custom-branded invoices, multiple billing formats, transactions with dates in the past, financial reporting, and more.
The system also works with different currencies and can automatically convert between them. TallyPrime also has a powerful inventory control module with flexible unit definitions, expiration date management, and the ability to automatically restock stock. Users can also use a complete manufacturing journaling solution that lets them keep track of production histories, the amount of scrap that was made, and more.
The system comes with a robust analytical reporting engine that enables users to process operational data and analyze the results for actionable insights.
The ERP makes it easier for different business departments to enter data by automating the process. This lets employees in all parts of the business focus on more important tasks and goals. One of the best things about the software is that it is easy to set up and use. This can often be done in just a few minutes.
So, TallyPrime makes it easy for SMBs to look at different parts of their business so they can make smart business decisions. The system can also be changed to fit the needs and ways of working of an organization. This means you can use it the way that works best for you and add features and modules as your organization grows.
This cloud-based ERP system can be accessed from almost any device, and it also has mobile apps that let users manage processes from anywhere, which makes running a business easier.
What are the costs to introduce this system?
For a one-time payment of $630, you can get the Silver edition of TallyPrime for a single user. For $1,890, you can get the Gold edition for multiple users. On the Tally website, you can go to the page about prices to learn more and ask the vendor any other questions you may have.
What are the Costs to Maintain this ERP?
Price lists are kept in different ways for different kinds of clients. Online reviewers of TallyPrime seemed happy with the application. Users said that the app was easy to learn and easy to teach, that it had a friendly customer support team, and that it had useful tax management and compliance features.
How can you test the ERP?
Testing is done from their official website. Kindly visit the link below to test this ERP.
3) NetSuite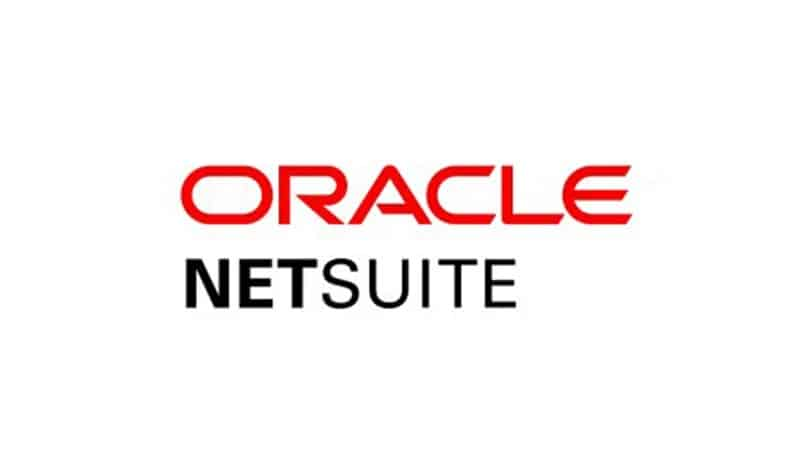 Oracle's NetSuite is enterprise resource planning software (ERP) that runs in the cloud and helps businesses manage their finances and operations. NetSuite has a large number of modules for financial management, supply chain management, project management, and e-commerce. Oracle NetSuite ERP comes in different versions, such as NetSuite, OneWorld, and OpenAir.
NetSuite can be used anywhere there's an internet connection. The software is made for businesses of all sizes and is used in many different fields, like wholesale distribution, software and technology, manufacturing, retail, and more. NetSuite gives businesses a way to manage their operations all in one place. The software is a popular choice for companies that want a cloud-based ERP system because it can be scaled, customized, and gives real-time visibility and insights.
What is special about this ERP?
NetSuite has all the standard ERP features and business processes, such as order to cash, procure to pay, plan to produce, and record to report. NetSuite also has advanced features like all the multi's (company, currency, country), warehouse management systems (WMS), professional services automation (PSA), supply chain management (SCM), human capital management (HCM), planning and budgeting, and e-commerce.
A NetSuite ERP implementation brings together different business processes and data into a single database that serves as the main source of information. NetSuite is made with the best-in-class business processes and role-based dashboards. This includes advertising and digital marketing agencies, clothing, shoes, and accessories, campus stores, wholesale distribution, and more.
NetSuite has a lot to offer businesses that want to streamline their operations and get more done. By doing all of their business through a single source of truth, companies can reduce the amount of manual work and errors that come with data entry and reporting. The software also has powerful reporting and analytics features that help companies learn more about their financial performance and make decisions based on data. NetSuite is a flexible and scalable solution that is made for businesses of all sizes and in many different fields.
As a cloud-based platform, NetSuite makes it easier for organizations to work together and get things done by making it easy to access data and functions from anywhere with an internet connection. The software also works with a number of third-party solutions, which lets businesses customize its features to meet their own needs. NetSuite is a good choice for businesses that want to improve their operations and reach their strategic goals because of these benefits and the software's ability to support growth and change.
What are the costs to introduce this system?
NetSuite's pricing is based on subscriptions, so customers pay a monthly or yearly fee to use the software. The price of a NetSuite subscription depends on the size and needs of your business, the number of users, and the modules and add-ons that are needed. NetSuite also has different versions of its software, each with a different set of features and price levels. For a quote, it's best to contact NetSuite directly. Their sales team can look at your business's needs and give you a pricing plan that fits your needs and budget.
What are the Costs to Maintain this ERP?
Users of NetSuite liked how the software could be used by businesses of all sizes and still work well. Many users liked how the software helped them streamline their business operations and make complicated tasks easier. This made them more efficient and productive.
How can you test the ERP?
Testing is done from their official website. Kindly visit the link below to test this ERP.
4) Sage Intacct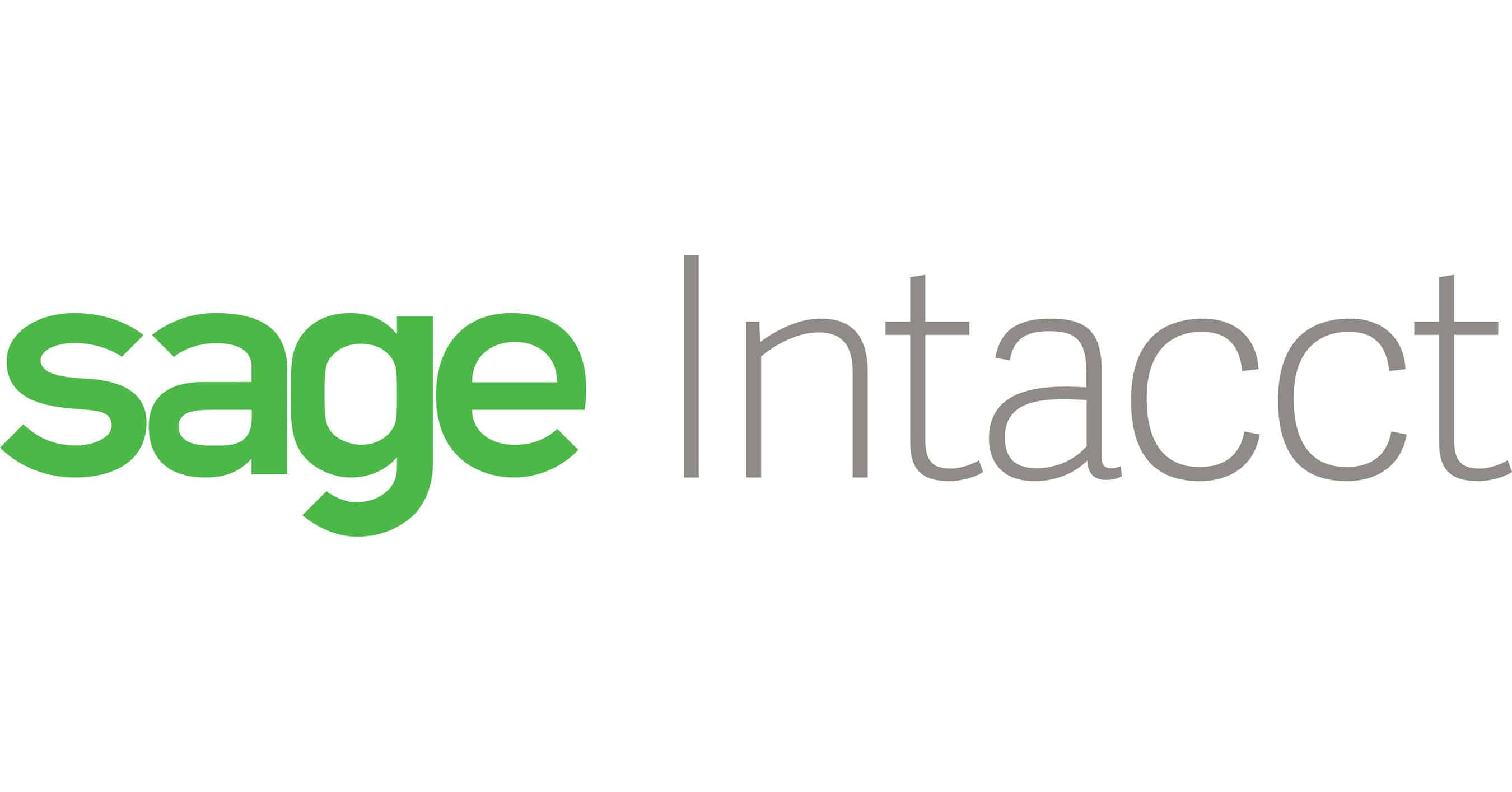 Sage Intacct is a set of software for managing money that is run in the cloud. The vendor has solutions for many different types and sizes of businesses. Intacct is designed to meet the needs of mid-market businesses and accounting firms. This kind of software is like enterprise resource planning (ERP) solutions in that it pulls data from all departments into a single system. Sage Intacct, on the other hand, only helps a business manage its finances. It does not help with production, distribution, or professional services.
What is special about this ERP?
Intacct can cut the time it takes to close by up to 79%, which is a big amount of time. Companies that use Sage Intacct will be able to report on hundreds of consolidated entities in real-time. The solution also lets you automate manual tasks, which makes you even more productive. Executives and finance leaders in a company can use the system to help them make decisions based on accurate, detailed data collected and analyzed across the whole company.
Intacct is the platform for financial management that can handle the business needs of mid-market companies. Sage Intacct is designed to give real-time insights into hundreds of combined entities through a single system. It is run in the cloud. Intacct does more than just manage finances.
It also has advanced accounting features that can be used in many different industries and sectors. Sage was started in 1981. At first, it made accounting software for printing companies, but it quickly grew into many other industries and countries. Sage is now one of the biggest providers of business software in the world. It has offices in 24 countries and has more than 6 million customers who use Intacct and other business solutions.
What are the costs to introduce this system?
Online, you can find a price list for some Sage software. Not one of them is Intacct. Sage Intacct is an enterprise-level solution, so the price will vary from company to company. The main things that affect how much software costs are the number of people who need to use it and how hard it is for the software to meet business needs. Larger companies with more complicated processes tend to pay more than midsize companies with less complicated processes.
What are the Costs to Maintain this ERP?
Sage Intacct is one of the best-reviewed financial solutions on the market. Tens of thousands of users have given Sage Intacct positive feedback. Sage Intacct has been called a visionary for cloud core financial management suites by Gartner Magic Quadrant. Sites like PC Mag give it good reviews. Even if the reviews are great, you should still take a close look at what your business needs from any business software system you're considering.
How can you test the ERP?
Testing is done from their official website. Kindly visit the link below to test this ERP.
5) SAP ERP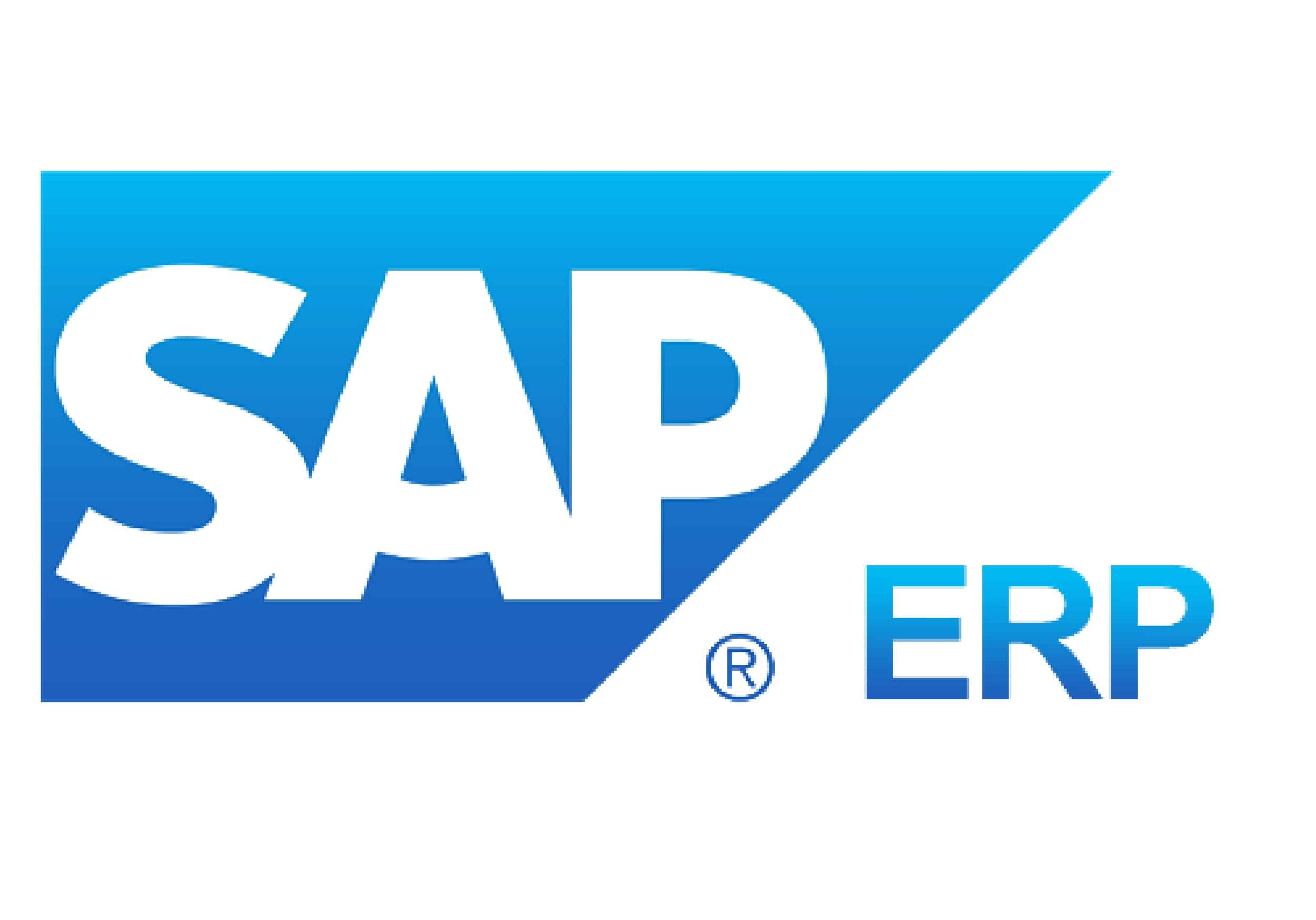 SAP's suite of enterprise resource planning (ERP) software can simplify operations for even the world's largest and most intricate businesses. Among enterprise resource planning (ERP) software developers, SAP is a global leader. SAP is one of the "big three" in the business software sector, together with Oracle and Microsoft.
In 1972, five software engineers at IBM decided to start their own company instead of giving up on an enterprise management system they were working on. This is how SAP came to be. This accounting and financial system would become an early version of what ERP systems are like today. SAP used its innovative business systems to grow into one of the biggest publicly traded software companies in the world, with more than 425,000 customers in 180 countries. In addition to SAP S4/HANA, SAP Business One, and SAP Business ByDesign, there are other systems that are SAP ERP products.
What is special about this ERP?
SAP ERP is made to make business processes and data sources run more smoothly as part of an integrated ERP solution. A company doesn't need to use multiple apps and databases to run its business. Instead, it uses a single ERP system. This gets rid of unnecessary systems, makes business processes more efficient and effective, and lets all departments work together better. An ERP can also help automate business processes, even those that involve more than one department.
SAP ERP has all of the software modules and features that businesses expect from an ERP system. This includes finances and accounting, manufacturing, distribution, inventory management, research and development, service management, sales, and a lot more. Since SAP has many types of business solutions, such as customer relationship management, business intelligence, supply chain management, and human resources management, companies can change the ERP solution to fit their business needs.
What are the costs to introduce this system?
Like most ERP companies, SAP doesn't put price lists for its ERP solutions on its website. SAP has a number of ERP solutions for different types of businesses and industries. So, the price of SAP ERP will depend on the type of ERP. As a general rule, bigger businesses will pay more for ERP than smaller or less complicated businesses. Costs go up as business needs require more user licenses and ERP features. So, companies will need to talk to a reseller or an SAP representative to get a detailed ERP pricing quote.
What are the Costs to Maintain this ERP?
SAP gets more attention than most business software companies because it is one of the biggest ERP vendors and developers. Overall, most of the reviews of SAP ERP have been very good. This includes websites for business software that ask users for feedback, as well as reviews from experts in the field and market research firms.
How can you test the ERP?
Testing is done from their official website. Kindly visit the link below to test this ERP.
6) SAP Business ByDesign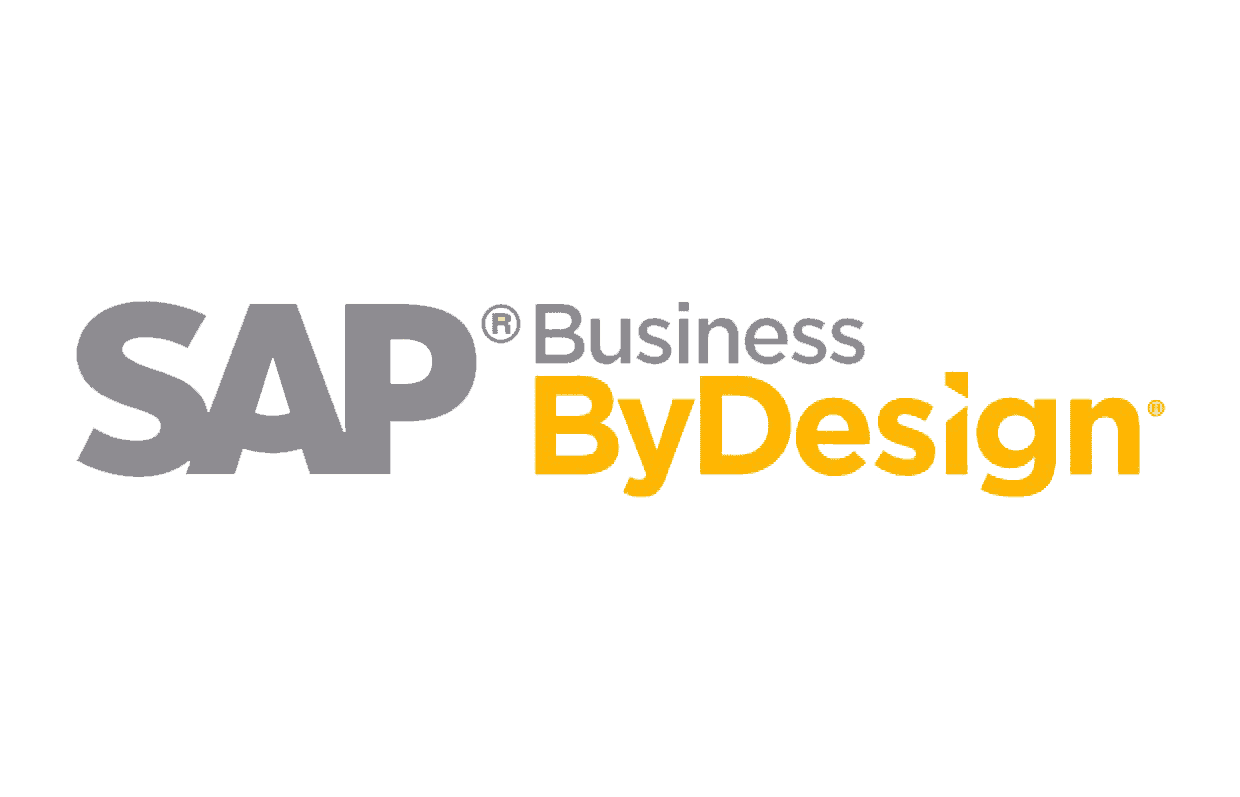 SAP Business ByDesign is a completely cloud-based ERP application that helps small and medium-sized businesses (SMBs) that are growing quickly to scale and compete with less hassle and cost. It is a single, unified solution that helps you manage your customers, suppliers, employees, finances, and products using pre-configured processes. Using best practices and in-depth analytics, SAP Business ByDesign lets you connect every function in your business. Also, the software comes with ready-to-use reports that help your business quickly adapt to new opportunities.
What is special about this ERP?
SAP Business ByDesign offers a wide range of benefits, starting with a full ERP system that includes finance, human resources, supply chain management, and customer relationship management. This lets companies automate processes, make them more efficient, and make decisions based on accurate information. One of the best things about SAP Business ByDesign is that it is made to be easy and quick to set up. It has a streamlined process that helps businesses get up and running quickly. The application gives you access to data in real-time and lets you create reports, which helps you make better business decisions. Also, the software is easy to connect to other SAP solutions and third-party applications. This means that data will be more accurate and the whole organization will be more productive. Other ERP solutions are more expensive than this one because you have to buy expensive hardware and IT infrastructure.
SAP Business ByDesign has a number of different versions that businesses can choose from based on their own needs. Each version has different features and functions that are useful for different types of businesses and industries. Among them are SAP Business ByDesign for Professional Services, Wholesale Distribution, and Manufacturing.
What are the costs to introduce this system?
You can find this ERP price on the website. Prices are usually based on subscriptions and are given per user per month. The exact price will depend on the needs and requirements of your business, such as the number of users, the modules and features you need, and any customization or integration needs. The best way to get a quote is to talk to SAP directly. The vendor's sales team can evaluate your business's needs and give you a pricing plan that fits those needs.
What are the Costs to Maintain this ERP?
It has full access to all self-service tasks and built-in analytics, as well as partial access to CRM, project management, management support, supplier relationship management, and supply chain management.
The plans are also split up based on the features that are used. Self-service users are people who actually use a part of a suite to do things like report and manage travel expenses or clock in and out of work.
How can you test the ERP?
Testing is done from their official website. Kindly visit the link below to test this ERP.
Frequently Asked Questions
Common questions people ask on the internet about enterprise resource planning software.
What Does ERP Stand For?
ERP is an abbreviation for enterprise resource planning, which means that ERP systems are used to identify, schedule, and track all of a company's resources, from personnel to supplies and intellectual property.
What are the most common features of ERP Software
Common Features of ERP Systems: Asset register, partner apps, checkout process, configuration rules, and other features of ERP systems Field service scheduling, field service dispatch, customer portal Inspections, APIs for integration, Internationalization, Maintenance, multi-entity / consolidation, and lean management Payment batching, Payment settlements, Payment schedule, Portfolio mix, Product catalog, and Shift Scheduling Status, tools for designing storefronts, Tickets, tracking time and attendance, visual arrangement, Warranty administration
What are the Alternatives to Enterprise Resource Planning Systems (ERP)?
There are no other types of software that offer as many functions as ERP, so ERP cannot be completely replaced by other solutions. As an alternative to ERP, buyers sometimes choose a mix of two or more solutions. Accounting software is often one of the solutions, and the others depend on the company and how it runs.
What business functions can be optimized with ERP?
An ERP system can cover many core functions across your organization—helping break down the barriers between the front office and back office while offering the ability to adapt your solution to new business priorities.
What kinds of services can help with implementation and deployment?
ERP implementation is usually a long and difficult process, so many vendors offer services to help you through it. Before signing on the dotted line, businesses that don't know much about IT or don't know anything at all should ask about these services and see how fast and attentive the vendor is.
Conclusion
With ERP, all of a company's operations can be controlled and coordinated from a central hub. The clearer the picture, the more efficiently businesses can allocate their resources. Business departments within a company that lacks ERP often work independently of one another.
Integration of systems for greater productivity and efficiencies, as well as higher synergies across teams and departments, are all facilitated by ERP systems. Moving to an ERP system, however, can backfire if the company doesn't take the time to ensure that its culture and organizational structure are ready for the shift.
Patrick Gruber is homeless because
he made his dream of being a digital nomad real.
He started as a developer, ventured into Amazon FBA business, invested in the market, founded a Cardano Stake Pool, and started his blog in 2022.
His blog shares his insight into the LIMITLESS possibilities of life.
If you're looking to change your world and gain practical knowledge, you're in the right place. Keep reading to learn more.